World news story
UK companies increase their food and drink exports to China
Visit to Food and Hotel China exhibition generates £1.4 million worth of estimated sales for UK companies with help from UKTI.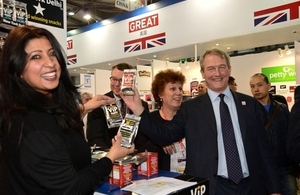 A recent delegation to China's largest imported food & drink exhibition, Food and Hotel China (FHC), generated £1.4 million worth of estimated sales with the help of UK Trade & Investment (UKTI). Almost all the London-based companies also secured an importer for the Chinese market on-site.
Seven London companies exhibited as part of the British pavilion to meet face-to-face with industry buyers and importers in one of world's fastest growing economies. British food brands from confectionary to yogurts secured potential orders and business leads. With UKTI funding, support from an International Trade Adviser and a tailored programme of events, these companies were given the platform to tap into the market which would have otherwise been difficult to accomplish.
China is currently the 10th largest food and drink market for the UK, due to consumer change in taste and appetite for high-quality British goods. This makes it a difficult market for the food and drinks industry to ignore.
Lucy Randolph, International Trade Adviser for the Consumer Goods sector from London said:
The visit to FHC China was extremely successful with the estimated £1.4 million worth of sales we captured out there. Some of the London-based businesses signed an importer on site too. This is an important step due to the complexity of import regulations in this highly diverse market. A trusted importer can handle procedures between the government bodies and hold the licenses required to enter the market.
China has become more open to international tastes over the years. Although they hold a unique culinary taste compared to other markets, high-end British goods are particularly desirable to the growing middle-class. The associated lifestyle and high-quality nature of British goods makes our exports sought after.
Cranberry Wholesale, a dried fruit, nut and confectionary company have been following up a few serious leads from the visit. Ray Khatibzadeh, Operations Manager, commented:
With the support of UKTI, the event became practical for us to attend. This was a new experience which worked well and we should see the results soon!
Owen Paterson MP, Minister for the Department for Environment, Food and Agriculture (DEFRA) was present at the show to support the British food industry's exporting efforts and to promote the UK Plc brand. He said:
We had the largest UK delegation which has ever attended competing with 70 other nations for a share of the rapidly expanding market for quality foods. I toured all of our stands speaking to UK firms who are trying to establish themselves and their brands out here. There was everything you could think of from companies specialising in meat and fish to finger food for conferences and events. This is a global race, and we're not going to compete by sitting at home. So my message is clear - let's get out there and show the world how GREAT Britain is.
Exporting tips for the Chinese market
If you are thinking about exporting to China you may need to consider the following:
research the import procedures as there are many complexities to the market. Things to consider include food regulations, import licences, and importers. UKTI can help with this

you will need to long-term commitment to see results. Processes can be lengthy so timing and planning is advisable

finding a trusted importer is a great way find entry into a market

get out there and visit the market. Nothing comes close to learning about this varied market and its audience by visiting the market itself
Contacts
If you are a London based company and looking to develop your business overseas contact:
UKTI London International Trade Team
Tel: +44 (0) 20 7234 3050
Email: export@uktilondon.org.uk
Published 18 February 2014