UK companies explore Bulgarian infrastructure opportunities with HRH The Duke of Kent
Leading UK infrastructure companies discuss opportunities for joint business activities with Bulgarian counterparts.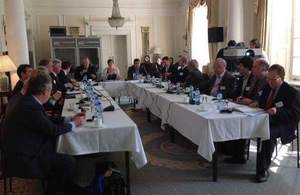 UK business delegation visited Bulgaria on 8-10 April to explore opportunities to engage with Bulgaria's massive infrastructure development programme. The investment programme the delegation looked at covers road, rail, metro, waste management, water and environment. The visiting companies included world's leaders like JCB, Pandrol Track Systems and Atkins Global, among others.
As part of the visit, on 8 April, HRH The Duke of Kent, who paid an official visit to Bulgaria, 7-9 April, hosted a reception for the delegates at the British Ambassador's Residence. It was attended by over fifty guests from the infrastructure sector, including Deputy Minister of Transport Petar Kirov, Deputy Minister of Environment Atanas Kostadinov, Deputy Mayor of Sofia Irina Savina and CEOs of leading construction companies, such as Glavbolgarstroy, Trace Group and Balkanstroy.
The following day, 9 April, the delegates met representatives of the Bulgarian Construction Chamber, Sofia Municipality, the Water Association, the Road Agency, the Rail Infrastructure Agency and Metropoliten Sofia to discuss their investment programmes in more detail and identify where the UK companies could contribute. The Bulgarian participants acquainted the foreign delegates with their key programmes within educational, social and healthcare infrastructure, and waste management projects in the 2014-2020 EU programme period; prevention of water loss and water regulation sectors; rehabilitation of railways sections and improving energy efficiency, and exchanging best practices between Sofia, Munich and London undergrounds. The meeting showed that of particular interest were projects in the water sector, integrated urban transport projects, and the third diameter of the Sofia Metro.
On 10 April, the delegation took to the road, visiting Plovdiv and Bourgas, to meet the municipalities and key local companies. Both sides explored opportunities for future cooperation.
Jonathan Allen, British Ambassador to Bulgaria, said:
I am delighted that Bulgarian infrastructure opportunities have attracted such interest from leading UK companies. Of course, the UK will not be competitive pouring concrete or laying pipes. But we do bring exceptional capabilities in many areas, including design services, environmental impact assessment, technical supervision and project management services; specialised equipment; and methods and technologies for utilisation of construction waste. With British technical expertise and engineering ability, we make excellent partners for Bulgarian firms.
Published 11 April 2014