World news story
Improving trade with Zambia
This was published under the 2010 to 2015 Conservative and Liberal Democrat coalition government
UKTI have appointed a new officer in the British High Commission in Lusaka with the aim of promoting trade with Zambia.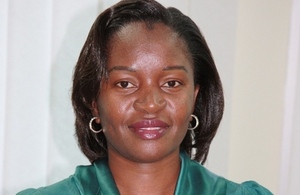 The new officer, Vichaya Chungu, has a good knowledge of the Zambian commercial sector. She has previously worked in the logistics industry and has prior experience in international trade facilitation.
Ms Chungu said:
I am delighted to have joined the British High Commission. I will be working as part of the team here but also reporting to the UK's dedicated trade and investment promotion agency, UKTI. The UK produces high quality goods and services in many sectors and I am sure that Zambia could benefit more from these. In the first instance I will be looking to increase trade in the infrastructure, agriculture, and the extractives sectors, and education and skills.
British High Commissioner James Thornton said:
It is terrific to have Vichaya on the team. We have previously worked hard to promote commercial relations between the UK and Zambia, but this is the first time that we have had an officer in the High Commission for that sole purpose.

Trade between the UK and Zambia already amounts to over K1.2 Billion per annum but it could be much higher. I am already seeing a lot of interest in Zambia on the part of British companies. But the opportunities available in Zambia deserve to be even better known in the UK. Part of Vichaya's job will be to ensure that happens.
Further information
UK Trade & Investment (UKTI) is a UK Government department working with businesses based in the United Kingdom to ensure their success in international markets, and encourage the best overseas companies to look to the UK as their global partner of choice. UKTI helps British companies of all sizes to grow their business through international trade by offering expert advice and practical support through a range of programmes. It also connects businesses to the world's top commercial opportunities and drives targeted campaigns centred around them.

For commercial enquiries please contact:
Matimba Changala, Senior Prosperity Officer on +260 211 423200
For UKTI enquiries please contact: Vichaya Chungu, UKTI Trade Advisor on +260 211 423200

For further information contact the Press and Public Affairs Section on +260 211 423200; Tresford Mumba +260977861491 or Alfred Kapalayi on +260 955 945771
British High Commission, Lusaka 8 October 2014
Document information
Published: 13 October 2014