News story
UK Commission for Employment and Skills strengthened by new appointments
The UK Commission works with government to raise skill levels, helping drive enterprise, create more and better jobs and promote economic growth…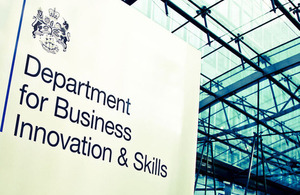 The UK Commission works with government to raise skill levels, helping drive enterprise, create more and better jobs and promote economic growth. It is led by Commissioners from large and small employers, trade unions and the voluntary sector.
The new Commissioners are:
Lucy Adams, Director of Business Operations, BBC
Professor John Coyne, Vice-Chancellor, University of Derby
John Cridland, Director-General of the CBI
David Fairhurst, Chief People Officer, McDonald's Europe
Dr Deirdre Hughes, Lead Consultant, European Lifelong Guidance Policy Network
Tony Lau-Walker, Chief Executive Officer, Eastleigh College
Trevor Matthews, CEO, Aviva UK
Seyi Obakin, Chief Executive of Centrepoint
Sean Taggart, Owner and Chief Executive of The Albatross Group
They join an existing team of 16 Commissioners, led by Charlie Mayfield, Chairman of the John Lewis Partnership.
Secretary of State for Business, Innovation and Skills, Vince Cable said:
"The diverse backgrounds and viewpoints represented by the nine new Commissioners will strengthen the Commission's capacity to deliver skills for growth across all sectors, helping boost national productivity and competitiveness."
UK Commission Chairman Charlie Mayfield added:
"It is a great time to refresh the Commission, adding to the authority and credibility we bring to bear just as we start to get traction on our priorities and goals. Together with our existing Commissioners we have an extremely strong line up. Following a competitive recruitment process, I'm also pleased to appoint Michael Davis as the Commission's permanent CEO. I know he will be a great asset in our mission to raise skill levels to help drive enterprise, jobs and growth."
Notes to editors:
The UK Commission for Employment and Skills is a social partnership and an executive NDPB of BIS, led by Commissioners from large and small employers, trade unions and the voluntary sector. Its mission is to raise skill levels to help drive enterprise, create more and better jobs and promote economic growth.
The new Commissioners have been appointed for a term of three years. For a complete list of all Commissioners, including pen portraits, visit www.ukces.org.uk
Lucy Adams is Director of Business Operations at the BBC, responsible for HR, property, facilities management safety and business continuity. Prior to this she was Group HR Director for Serco.
**John Coyne. **With a turnover approaching £120m and 2,700 employees the University of Derby is one of the area's largest businesses. The University has won widespread recognition and awards for a number of its innovative programmes and approaches.
John Cridland joined the CBI in 1982 and was promoted to Director General last year. He leads the CBI - the voice of business - in the UK and represents it internationally.
David Fairhurst led the process which resulted in McDonalds becoming one of the country's first employers to achieve awarding body status. Building on the 16,800 hours of training the company's UK employees receive every day, he was also instrumental in creating McDonald's Apprenticeship programme which currently has over 8,000 Apprentices in learning.
**Deirdre Hughes **is a policy adviser, academic researcher/writer, trainer and freelance consultant specialising in the impact of careers, employment and skills policies to support the development of jobs and growth. She is an Associate Fellow at the Institute for Employment Research (IER) Warwick University, and an Associate at the Centre for Educational Sociology, Edinburgh University.
Tony Lau-Walker is Chief Executive Officer of Eastleigh College, a General Further Education college supporting over 22,000 learners annually. With over 30 years experience in vocational education, he sits as Chair of The Windsor Group of Colleges, which focus on collaborative work with employers to meet the training needs of large organisations.
Trevor Matthews will be joining Aviva in December as Chief Executive of Aviva UK. Prior to this he was director and Chief Executive Officer of Friends Provident PLC (subsequently Friends Life) and Chief Executive of Standard Life Assurance Ltd. He is also chairman of the Financial Skills Partnership in the UK and from 2008-9 was President of the Chartered Insurance Institute.
Seyi Obakin joined Centrepoint in 2003 as Finance Director. He became its first Chief Operating Officer in 2006 and Chief Executive in 2009.
Sean Taggart is co-owner and Chief Executive of The Albatross Group of Companies. Since 1995, Sean and his team have grown Albatross from its origins as two relatively small and specialist domestic wholesale tour operators handling around £5m of annual sales into a collection of six multi-award winning group tourism businesses with a combined turnover of just under £30 million.
BIS's online newsroom contains the latest press notices, speeches, as well as video and images for download. It also features an up to date list of BIS press office contacts. See [http://www.bis.gov.uk/newsroom](http://www.bis.gov.uk/newsroom) for more information.
Notes to Editors
Contact Information
Name BIS Press Office Job Title
Division COI Phone
Fax
Mobile
Email NDS.BIS@coi.gsi.gov.uk
Published 21 July 2011