UK colleges explore opportunities in Guatemala
Representatives of Edinburgh College and Scotland's Rural College (SRUC) visited Guatemala on 15-16 November.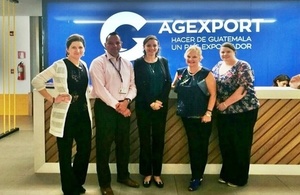 Both institutions met with key stakeholders to discuss developing English language training as a way of advancing skills-based education in the country.
The visit focused on taking forward agreements with organisations they had previously been in contact with and to identify new opportunities, particularly in the agricultural sector. Both colleges prepare young people in the UK for university or to develop a technical career.
The delegation met key stakeholders from the private and public sectors, including Intecap, Inguat, Agexport, the Chamber of Agriculture and the Chamber of Industry, amongst others. Both colleges concluded that there are a wide range of English language training opportunities particularly in new high-tech sectors. The UK has one of the largest shares of the English language global training market - approximately 35%. Other strengths of UK education are: a highly developed educational system, world-leading educational institutions with an international reputation for teaching and research, and a developed student finance system, as well as excellent opportunities for scholarships.
To mark their visit, the representatives of Edinburgh College and SRUC, said:
Edinburgh College and Scotland's Rural College (SRUC) greatly value our international partnerships and we are delighted to once again be visiting Guatemala to explore opportunities for further international collaborations. As government-funded institutions, Edinburgh College and SRUC pride ourselves in offering high quality technical education, English language training and teacher training to partners all over the world, and we look forward developing those collaborations and partnerships in Guatemala.
Published 7 December 2017