UK celebrates World Human Rights Day
The UK is a passionate, committed and effective defender of human rights.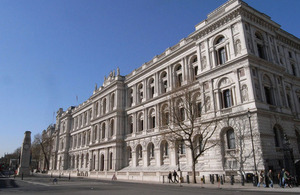 The 10th December is World Human Rights Day. The UK is a passionate, committed and effective defender of human rights. The UK's commitments at home and abroad are: the protection of those most vulnerable in society, responding to global challenges, working towards a future of dignity for all, and keeping human rights at the core of UN work. The UK's priorities include: democracy and the rule of law, preventing torture, abolishing the death penalty, supporting people's freedom of expression, equality and non-discrimination and business and human rights.
As Human Rights should be for everyone, regardless of gender the UK has placed women and girls at the heart of our international development work through the delivery of our "Strategic Vision for Girls and Women". The UK currently provides £13.25 million to the UN body in supporting all women rights works and pledge to work internationally to increase the number of women in decision making positions, delay first pregnancy, reduce the level of maternal mortality and increase women's economic well-being and access to justice.
Last year the UK Government launched the Preventing Sexual Violence Initiative, through which the UK intends to strengthen international efforts and co-ordination on this issue in conflict and post-conflict situations. The move received worldwide recognition including the Hollywood actress Angelina Jolie, who was jointly with British Foreign Secretary William Hague for a campaign earlier this year to stop sexual violence being used as a tool of war. The UK will host a London Summit on Ending Sexual Violence in Conflict in June 2014. The Foreign Secretary will use the Summit and the global momentum on the issue, to ask all countries to ensure the implementation of the International Protocol. This will be one of many practical steps that can be taken to help ensure that sexual violence is no longer a feature of conflict in the 21st century.
The UK supports Taiwan's development of human rights and is looking for more collaboration with local partners to share best practice and learn from their experience. In October, together with our EU colleagues, British Trade & Cultural Office invited several European legal experts to share their experience with Taiwan over issues including sentencing standards and victim family's protection. In late November, the Judicial Yuan made an announcement to formally launch the "sentences information system", which is aimed to reduce variations in sentencing and to improve human rights standards among Taiwan's judicial system.
Chris Wood, Director of the British Trade and Cultural Office, said that: "the people of Taiwan have demonstrated their commitment to move towards a society governed by human rights and the rule of law. To mark World Human Rights day, I would like to congratulate Taiwan's new initiatives such as "Taiwan Girls Day" to promote gender equality and improving human rights in Taiwan's judicial system. We are delighted to see such developments and hope to continue to share our experiences and to work with local partners to promote human rights education and training in all aspects."
Further information
Last month the UK was successfully re-elected for membership of the UN Human Rights Council (HRC) for the term January 2014 – December 2016. The UK was one of only two western European countries since 2006 (the other was France) to be elected for a third time as the member of the HRC.

The HRC is an inter-governmental body within the United Nations system made up of 47 States responsible for the promotion and protection of all human rights around the globe. The UK makes a significant financial contribution to the UN's human rights efforts and have committed to contributing 0.7% of our GDP to international development assistance.

In order to promote gender equality, Taiwan's Executive Yuan took an initiative to promote girls' rights in March this year. The move was aimed to tackle gender inequality on four major fronts – physical and psychological wellbeing, education and human capital investment, security and protection and culture and traditions. The Ministry of Health and Welfare also took further step to officially set the day of 11th October (the International Day of the Girl Child declared by the UN in 2011) to be "Taiwan Girls Day".
Published 10 December 2013