UK celebrates one year until London 2012
Ministers, Olympic chiefs and athletes visited the completed Aquatics Centre and gathered in Trafalgar Square to mark the milestone.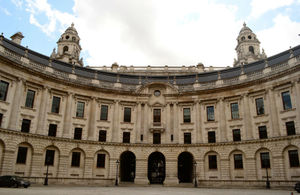 With just one year to go until the opening ceremony of the London 2012 Games, the completed Aquatics Centre was unveiled today.
British Olympic hopeful Tom Daley took the first dive in the evening and synchronised swimmers took to the water in the main pool during the day.
Culture Minister Jeremy Hunt was among those who visited the venue - the last of the six main Olympic Park venues to be finished. "The build project for London 2012 has been a huge success for the British construction industry, public sector and UK plc as a whole," Mr Hunt said. "The completion of the Aquatics Centre is the final permanent world-class sport venue to be finished on the Park and a proud moment for the Olympic Delivery Authority."
He added: "'As we celebrate this milestone in our countdown to the 2012 Games, it is well worth noting the success we have achieved so far in this enormous project. It's on time and on budget, the majority of venues are built and testing is well underway. In all, it is a showcase of the best of British construction, creativity, teamwork and achievement."
Venues around the UK which will host Olympic events also marked the day, including the Millennium Stadium in Cardiff, where some football matches will be held, and Portland, which will host the sailing.
In the evening, Mr Hunt and Sport and Olympics Minister Hugh Robertson joined the celebrations in London's Trafalgar Square, where President of the International Olympic Committee Jacques Rogge formally invited the athletes of the world to the Games and unveiled the Olympic medals.
The Games next year will mark the end of a decade-long project which aimed to put athletes at the heart of the event, inspire young people to get into sport, showcase iconic London and be a catalyst for lasting transformation. Since winning the bid in 2005, work towards these aims has included the regeneration of a large swathe of East London, transport improvements and the launch of initiatives such as the School Games.
Mr Rogge congratulated the London 2012 team and its partners on its work. "London 2012 is now ideally placed not just to deliver top level Olympic competition but also to leave a great legacy to the British people," he added.
DCMS has also confirmed that it is funding the Opportunity Inspired by London 2012 scheme run by the Princes Trust to help disadvantaged young people make a lasting positive change to their lives inspired by the London 2012 Olympic and Paralympic Games.
Further information
Published 28 July 2011