World news story
UK celebrates 46 new scholarships for Ugandans
British High Commissioner hosts event to mark award of 2013/14 UK scholarships to Ugandans, funded by public and private sectors.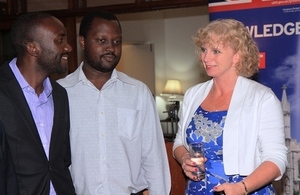 On 29 August 2013 the British High Commissioner, Alison Blackburne, hosted the 46 new Ugandan scholars at a reception at her Residence to celebrate UK Education and its role in Uganda's development. At the event, the scholarship recipients had the opportunity to interact with former UK scholars, business leaders from a cross-section of sectors and senior government officials.
This year marks the 30th anniversary of the Chevening scholarship programme. Chevening scholarships are awarded to talented individuals who are identified as having the potential to be the next generation of leaders in their chosen fields. Commonwealth Scholarships and Fellowships are awarded to candidates of excellent academic calibre from developing Commonwealth countries.
The Tullow Group Scholarship Scheme (TGSS) is an initiative by Tullow Oil plc aimed at increasing local and national participation in the oil and gas industry and in other related sectors that promote economic diversification in its host countries. 2013 is the second year that Ugandans have been able to benefit from the scheme. The University of Manchester Equity and Merit Scholarships aim to assist talented but economically disadvantaged students from some of the world's poorest countries.
High Commissioner Alison Blackburne said:
It is 30 years since the Chevening scholarship programme began and we are pleased that Chevening has empowered so many people in Uganda and around the world to make outstanding contributions to their communities and countries. I congratulate all those who have won UK scholarships this year, and encourage them to use this opportunity to increase their knowledge and skills and enable them to contribute to Uganda's growth and development.
Peter Brown, Country Director of the British Council in Uganda, congratulated the scholars, saying:
the British Council creates opportunities for people worldwide and one way of creating opportunity is through education. Many of our programmes are aimed at building skills for African youth. We are proud to be managing the Tullow Group Scholarship Scheme, and to be working with the Commonwealth Scholarships Commission. We are equally proud to be associated with this fantastic group of young people, and we look forward to following the scholars' progress in the UK as good ambassadors for your scholarship schemes and for your country, and to reconnecting with you on your return to Uganda.
Published 29 August 2013
Last updated 9 September 2013
+ show all updates
Changed caption to read 'British High Commissioner with new scholars'. Changed publish date to 29 August 2013, the day of the event.
First published.