News story
UK car production drives to 6-year high
Car production in the UK in 2013, rose to its best level since 2007, says trade body.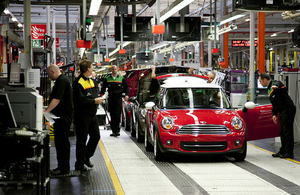 UK car production in 2013 soared to its best level since 2007 according to the Society of Motor Manufacturers and Traders (SMMT).
2,264,737 cars registered in 2013, up 10.8% on 2012 and exceeding SMMT's 2.25 million forecast for the year
2013 hits highest annual registration total since 2007 as December achieves 22nd consecutive monthly rise
on average, an additional 600 extra cars registered per day in 2013 than in the previous year
UK firmly secured as Europe's second largest car market and only one to grow consistently throughout 2013
2014 market expected to stabilise with sustainable growth of around 1% over the year
Mike Hawes, SMMT Chief Executive said:
With its best year since a pre-recession 2007, the UK new car market has helped stimulate the country's economic recovery. While the European market is only now showing signs of improvement, the UK has consistently outperformed the rest of Europe with 22 consecutive months of growth.

The 10.8% increase in 2013 reflects the attractive financial offers available as well as increased demand for more technologically advanced new cars. We expect new car registrations to remain stable in 2014 as customers return to a more regular replacement cycle.
The Department for Business, Innovation and Skill's 'Automotive strategy for growth and sustainability', builds on the success that the UK's car industry already enjoys. It aims to make the sector's long term future more secure, grow the UK share of the value chain and secure strong global competitive positions in low carbon research and development (R&D) and in premium and niche vehicles. This includes investing, with industry, £1 billion over 10 years, in a new Advanced Propulsion Centre (APC) to support new technology and supply chains for low carbon vehicles.
This forms part of the government's Industrial Strategy, that includes:
developing strategic partnerships with industry
supporting emerging technologies
improving access to finance for businesses
working with business to help develop skills that businesses will need
publishing government contracts to provide confidence to business investment
Published 23 January 2014