UK candidate for European Court of Justice Judge confirmed.
The Foreign Office has announced the appointment of Mr Christopher Vajda QC as the next UK judge to the European Court of Justice.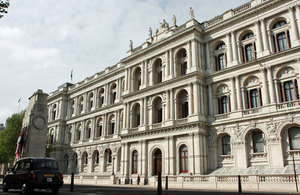 Mr Vajda QC will take up his appointment in October following an intensive domestic recruitment campaign. Mr Vajda QC brings with him a wealth of experience of both the European and the UK legal system, having practiced as a Barrister in the field of European Law for the past thirty years. We are confident that Mr Vajda's experience will be of great value to the Court.
Minister for Europe, David Lidington MP, welcomed the appointment:
"I congratulate Mr Vajda on his appointment. I am confident that his extensive previous experience will enable him to make a significant contribution to the workings of the Court during his term."
"The European Court of Justice plays an important role in applying and interpreting the law of the European Union. The UK is conscious of the increasing impact European Court of Justice judgments have upon businesses, voluntary and community sector organisations and the lives of citizens of EU Member States. That is why the UK took the process of proposing a new judge to the European Court of Justice very seriously. Our judiciary is respected across the globe for its skill and independence - the process of appointment is at the heart of that."
"I would also like to thank the UK's current judge in the European Court of Justice, Sir Konrad Schiemann for his diligent work at the European Court of Justice over the last eight years."
Following domestic selection processes, nominations are forwarded to the panel established under Article 255 of the Treaty on the Functioning of the European Union for further scrutiny, following which nominations are agreed by common accord of all Member States. Mr Vajda's appointment has now been agreed by all Member States. A number of other Member States have also had their nominations or reappointments of a judge of Advocate General agreed.
Christopher Vajda QC has practised as a Barrister for the past thirty years. He was appointed Queen's Counsel in 1997 and a Bencher of Gray's Inn in 2003. Mr Vajda has sat as a recorder within the Crown court for the past eight years. He has significant expertise in the fields of both UK and European law, and the corresponding European and legal systems. As a Barrister he has appeared in front of both the Supreme Court and the European Court of Justice on a number of occasions.
Mr Vajda QC replaces the UK's current judge at the European Court of Justice, Sir Konrad Schiemann who intends to step down in October 2012. Judge Schiemann has been in post since 2004.
Published 21 June 2012