UK calls on Lao authorities to pursue justice for Lao community leader
Foreign Office Minister Rt Hon Hugo Swire MP has expressed concern on anniversary of disappearance of Sombath Somphone in Vientiane, Laos.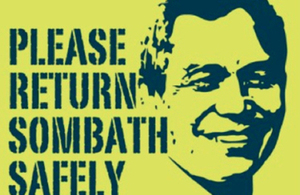 Sombath Somphone went missing in Vientiane, Laos, on 15 December 2012. His whereabouts remains unknown. Sombath, a respected NGO worker in Laos, founded the Participatory Development Training Center (PADETC) a non-profit private school in Vientiane which promotes community-based development. In 2005 he was awarded the Ramon Magsaysay award for his involvement in promoting sustainable development in Laos. Commenting on the case Hugo Swire said:
I remain extremely concerned about the disappearance of Sombath Somphone. It has been a year since Sombath disappeared and his family still do not know what has happened to him. This is unacceptable and I call on the Lao authorities to urgently hold a thorough and impartial investigation into Sombath's disappearance in order to bring those responsible for his disappearance to justice. Transparency and credible progress in the investigation would send a positive message to the international community that Laos is serious about upholding the rule of law. It is important that the Lao people, as well as the international community, are able to trust in a transparent, fair and legally rigorous justice system.
Further Information
Hugo Swire's statements of 11 Jan 2013 on Sombath Somphone's disappearance
Read more about the Ramon Magsaysay Award Foundation
More information on the Participatory Development Training Center
Published 15 December 2013