News story
UK Business Secretary visits Northern Ireland
The Secretary of State will officially open a flagship research facility in East Belfast - the Northern Ireland Advanced Composites Centre (…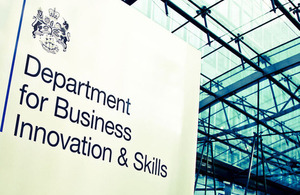 The Secretary of State will officially open a flagship research facility in East Belfast - the Northern Ireland Advanced Composites Centre (NIACE) - with Northern Ireland Enterprise Minister Arlene Foster.
NIACE has received £2.7m in funding from the Department for Business, Innovation and Skills (BIS) and will bring together leading academics and dynamic companies to develop new technologies for the design and rapid manufacture of high-quality composite products. Dr Cable will also visit companies in and around Belfast.
Vince Cable said:
"Some people say the UK doesn't make anything any more. Yet the companies I'm visiting in Belfast show this couldn't be further from the truth. We are one of the world's biggest manufacturers and a leading exporter of technology intensive products and services.
"The opening of NIACE is welcome as it demonstrates our ideas and innovations are being turned into new products and jobs. This centre will work with universities and businesses based in Northern Ireland and across the UK, to develop and commercialise new technologies."
First stop for the Business Secretary will be Andor Technology where he will tour the production floor to see engineers working on high-spec cameras used for innovative medical and research purposes.
He will then visit Bombardier's new CSeries wing factory, where the UK Government and Northern Ireland Executive is investing a total of £135m in the form of repayable launch funding and grants. He will meet apprentices and school children from the company's Educational Outreach and see the wing test facility in operation.
Dr Cable will also attend a meeting with shipping firm Harland and Wolff where he will be given a tour of their site.
The Business Secretary is being accompanied on the visit by Northern Ireland Minister Hugo Swire.
Mr Swire said:
"This is a good day for Northern Ireland, we now have a centre of excellence to support our advanced manufacturing industry. NIACE will turn innovation into new technology which will give us the competitive edge we need in a global market. The companies we have visited today demonstrate that In Northern Ireland we have the capability to offer premium specialist services that the world wants."
Notes to editors:
BIS's online newsroom contains the latest press notices, speeches, as well as video and images for download. It also features an up to date list of BIS press office contacts. See http://www.bis.gov.uk/newsroom for more information.
Notes to Editors
Contact Information
Name BIS Press Office Job Title
Division COI Phone
Fax
Mobile
Email NDS.BIS@coi.gsi.gov.uk
Name Matt Barker Job Title
Division Department for Business, Innovation and Skills Phone 020 7215 5946 Fax
Mobile
Published 31 January 2012