World news story
UK business offered strategic and practical insight into NATO
At an event organised by the UK Delegation to NATO, representatives from British business were briefed on the future of NATO, and more.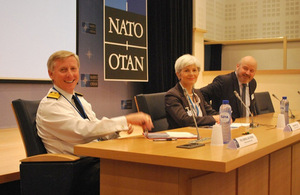 Representatives from British industry were recently given an opportunity to better understand NATO and the business opportunities it has to offer, at a conference organised by the UK Joint Delegation to NATO (UKDel). On Friday 4th October, representatives of British industry gathered at NATO Headquarters for a day of interactive sessions with key decision makers from across the 64 year old Alliance.
The conference was organised as part of the Delegation's efforts to help British firms secure contracts in the NATO market. One of the Foreign and Commonwealth Office's (FCO) responsibilities is to help build Britain's prosperity by increasing exports and investment, opening markets and ensuring access to resources for British business. As part of this, the UK Joint Delegation to NATO helps British firms to work more effectively with NATO through activities such as weekly 'industry surgeries', producing 'how to' guides on working with NATO, and providing advice to industry on engagement and procurement opportunities.
Pavan Chima, UKDel's Investment and Industry Adviser and organiser of the course felt that the day was a good opportunity for industry to find out what is going on at NATO in the medium to long term.
The event proved to be a real success and the feedback provided by delegates was overwhelmingly positive.  Although our main aim was to inform and advise on a broad spectrum of Alliance business, we also received a great deal of useful feedback from industry. The earlier sessions set the tone by outlining the strategic context in which the Alliance will operate in the medium to long term, and later sessions offered some practical context and gave participants the opportunity to gain an insight into best practices when doing business with NATO.  I know that attendees found the information gleaned invaluable in both their strategic and tactical planning.
The day opened with a keynote session on Britain and the future of NATO. Delegates had the opportunity to gain an insight into British thinking on this topic from the UK's Permanent Representative and Military Representative to NATO, Dame Mariot Leslie and Vice Admiral Ian Corder. Industry representatives were also briefed on the work of UK Trade and Investment Defence and Security Organisation (UKTI DSO) in this area by Alan Malpas, Regional Director for Europe at UKTI DSO.
Throughout the day, delegates heard from a range of experts from across the NATO institutions who each offered their perspective on the future of NATO business. For example, NATO's Defence Investment Division briefed on capability development and provided a case study on NATO's joint intelligence, surveillance and reconnaissance capability, which aims to facilitate the coordinated collection, processing, dissemination and sharing within NATO of information gathered by the Alliance Ground Surveillance system. The General Managers of both the NATO Communications and Information Agency and NATO Support Agency provided delegates with insights on the new customer funded regime underwhich they now operate. Other topics on the agenda for the day included the future of common funding and best practices of doing business with NATO.
Dr Grigorios Koutsogiannis from Lockheed Martin attended the conference and found the sessions to be useful and informative.
The UK Industry Day 2013 was a well organised venue, that brought together industry, UK and NATO officials. An informative event that enabled to listen first hand to the views of key NATO officers and get a better idea of the future opportunities. Additionally, it was a great opportunity to meet with smaller UK companies that are not often at NATO, and get an introduction to their capabilities for future collaboration.
Matthew Fly from Interserve Defence Ltd emphasised the value of the strategic sessions throughout the day.
Excellent event.  The strategic overview provided a thorough understanding of the changing NATO operational landscape and clear views on how UK industry should engage post Afghanistan.   This was the perfect cornerstone for the more tactical oriented sessions that followed and we found this hugely beneficial. Interserve will take what we learned forward; our goal will be to provide NATO critical capability for future operations.
Published 4 November 2013