World news story
UK Business delegation visits Turkmenistan for annual consultations
The 3rd meeting of the Turkmenistan United Kingdom Trade & Industry Council took place in the Oguzkent hotel in Ashgabat today.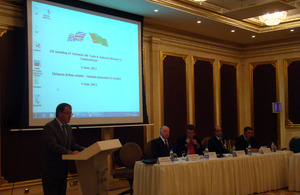 Some 20 leading British companies, led by the UK Prime Minister's Trade Envoy for Turkmenistan, Professor Charles Hendry, and UK Co-Chairman of the Council, Ambassador Ronald Nash, took part.
Opening the Council meeting, the British Ambassador, Keith Allan, expressed gratitude to the Government of Turkmenistan and to UK companies for their support and active participation. He said:
After I arrived in Turkmenistan in 2010, we launched the first Turkmenistan United Kingdom Trade & Industry Council which helped to boost trade and investment between our two countries, and added valuable structure to the relationship. Since then, business between the UK and Turkmenistan has flourished. Bilateral trade with Turkmenistan was worth a record-breaking £236 million in 2012, an increase of 193% over 2011.
In response, the Co-Chairman from Turkmenistan emphasised the importance of the development of UK-Turkmenistan relations, particularly in the diversification of the economy and attracting investors to the Turkmen market.
The two sides then had a series of constructive meetings to discuss mutually beneficial co-operation in a range of sectors such as energy, construction, aviation, communication and sports. Representatives from the UK underlined in particular their readiness to support Turkmenistan's preparations for the Asian Indoor & Martial Arts Games in 2017, using experience and expertise gained from the successful London Olympics and Paralympics in 2012, and for this to serve as a launch pad for further success on the international sports stage for Turkmenistan's athletes.
These meetings were followed in the evening by an Embassy reception celebrating the birthday of Her Majesty Queen Elizabeth II.
Published 6 June 2013