World news story
UK business delegation in Manila
A business delegation from the UK in the defence and aid-funded business sectors arrived in Manila as part of the UK government's initiative to stimulate bilateral ties.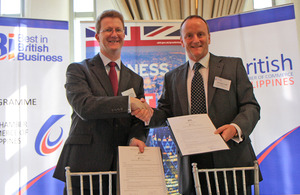 In response to earlier discussions with the Department of National Defence and with their cooperation, 13 firms from the defence sector have come to the Philippines to participate in a UK defence and technology event on 19-20 March 2013.
Separately, a number of companies active in the aid-funded business sector are also here to explore opportunities linked to the Asian Development Bank's project in the Philippines and wider Asian region.
On Monday, British Ambassador Stephen Lillie set out the UK government's plans to develop British Chambers of Commerce through its global network of Embassies and High Commissions. He signed a Memorandum of Understanding (MoU) to seal the partnership here with Mr Roger Lamb, Vice Chairman of the British Chamber of Commerce of the Philippines (BCCP) before business leaders at a luncheon at the Manila Peninsula Hotel.
Ambassador Lillie is keen on building on the success of the existing British companies in the Philippines and to bring more companies in the market here in partnership with the BCCP.
Ambassador Stephen Lillie said:
We have put business promotion front and centre of the UK Foreign Office's effort. The Embassy is working with the Chamber to promote the UK in the Philippines. As part of a joint campaign to be launched later this year, I have accepted the Chamber's invitation to become its patron, and in that capacity I will become even more closely involved in its work. My ambition is that, through closer partnership, the Chamber will be able to play an increasingly active role, not only in promoting the interests of incumbent British companies, but in helping new exporters and investors from the UK to enter the market.
There is in my view no better time to be signing such a partnership. From GDP growth to the stock market and international competitiveness rankings, all the good indicators are going up. Meanwhile, the negative indicators, corruption and the government deficit are going down. And I was really pleased to hear about the positive evaluation of ICAO during its recent visit to the Philippines, which I hope will lead to the start of direct flights between our countries before too long.
Published 19 March 2013