World news story
UK brings largest ever agri-tech delegation to Agritex 2017
The UK's Department for International Trade is bringing a business delegation to the conference in Hyderabad, 7 to 9 September.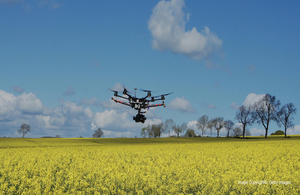 The UK is country partner for the 5th edition of Agritex 2017, India's premier international trade fair on agriculture, dairy and food processing.
13 innovative British companies are participating, in the areas of:
animal science
water conservation
silo storage systems
organic farming
agricultural marketing communications
sustainable packaging technologies
agri skills and training
cold chain technologies
smart agriculture
Andrew Fleming, British Deputy High Commissioner Hyderabad said:
Agriculture is one of the UK government's priority sectors in India and our business delegation is demonstrative of the very best technology the UK agricultural industry has to offer. These companies offer a combination of innovation and business improvements that can transform food security globally.

Science, big data and technology are changing the face of agriculture. Such changes are necessary as the global challenge to the food industry becomes increasingly acute. The UK is now at the vanguard of agricultural technologies, pioneering new approaches to food and farming systems.

I warmly invite Indian businesses and others interested in agri-tech to come to the UK pavilion and enjoy exploring the remarkable technology and innovation on display. All UK companies are here in Hyderabad with a desire to establish business collaborations in India; this week provides the perfect chance to explore and initiate these.
Telangana Minister for Agriculture, Pocharam Srinivas Reddy, Minister for IT K T Rama Rao and Principal Secretary (Agriculture) C Parthasarathi will be present at the opening of Agritex 2017.
They will also visit the UK pavilion and meet the visiting delegation. At the conference, being held alongside trade show, the UK experts and companies will share their expertise and best practices in innovation in agriculture, water efficiency, dairy farming technologies, aquaculture and food processing.
The UK has one of the most highly-regarded agricultural technology sectors in the world, having contributed to the Agricultural Revolution with many developments in technologies used across the world.
Simon Doherty, UK Agri-tech specialist said:
I am delighted to be back in India to attend the Agritex conference in Hyderabad. We are bringing a range of fantastic companies and training providers from the UK agri-tech sector; offering innovative technologies around water conservation and plant nutrition, through livestock genetics and animal health products, to grain processing, storage and distribution solutions, to supply chain analysis.

The UK agri-tech offer is built around integrated solutions and, with that in mind, it is hugely important for us to develop partnerships around innovation but also provide training and support in how to maximise returns from the investment in those novel technologies.
The UK previously brought major agri-tech delegations to the India-UK TECH Summit and Agro-Tech India in 2016, which helped forge collaborations and investments for British companies in India.
British company Aviagen, a world's leading poultry breeding company, have a production facility in Tamil Nadu and are supporting Indian poultry farmers to increase their incomes by reducing input costs through improved grand-parent pedigree lines.
Another UK company Genus ABS has already set-up state-of-the-art bovine genetics facility in Maharashtra and are now introducing their cutting-edge sexed semen technology in India.
Further information:
UK companies participating at Agritex India 2017 are:
Aardra Systems Ltd
Agro Mavens Ltd
Bentall Rowlands Storage Systems Limited
Chase Organics UK
CottonConnect South Asia Pvt. Ltd
Doug Marriott Associates Ltd
G Shepherd Animal Health
KisanHub Technologies Pvt. Ltd
National Centre for Precision Farming (NCPF)
Nextex Ltd 16
Richardson Milling UK Limited
RVJ Agribusiness Academy Ltd
UK Technology for Agriculture & Genetics
Media
For media queries, please contact:
Stuart Adam, Head,
Press and Communications
British High Commission,Chanakyapuri,
New Delhi 110021, Tel: 24192100; Fax: 24192400

Email: Jagori Dhar.
Follow us on Twitter, Facebook, Flickr, Storify, Eventbrite, Blogs, Youtube, Instagram, Snapchat @UKinIndia, Periscope @UKinIndia
Published 6 September 2017