UK bolsters fight against HIV, TB and malaria
The British government has announced that it will provide urgent support for life-saving HIV, TB and malaria supplies that will save the lives of millions of people in the world's poorest countries.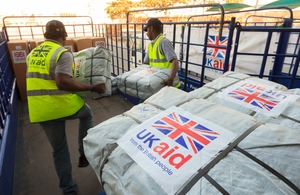 The British government will support the Global Fund - an international public-private health partnership - to fight some of the worst diseases in the world.
Every day over 2,000 people die from malaria and more than 7,400 people become infected with HIV.
Britain will support measures to combat:
Malaria: Protecting families against malaria with insecticide sprays, bed nets, drugs and help from health workers. Malaria hot-spots will be targeted including Sudan, DRC, Kenya and Angola. As a result of the support, life-saving programmes such as the distribution of 1.6 million bed nets will now go ahead so that more lives can be saved;
HIV: Supporting an additional 9,000 HIV positive women with treatment which prevents transmission to their babies and an additional 64,000 people with treatment for AIDS; and
Tuberculosis:  Providing an additional 56,000 people with treatment for TB.
The decision comes ahead of the findings of the Multilateral Aid Review that is looking at Britain's future support for international bodies.
The review, which will report back in the New Year, will set out reforms we want to see the Global Fund make as a matter of priority, including working much more effectively on the ground, simplifying procedures and maximising value for money.
Secretary of State for International Development Andrew Mitchell said:
"The Coalition Government has been absolutely clear that we will be relentless in our efforts to save lives in the world's poorest countries.
"The Global Fund has an impressive track record in delivering medicine and prevention tools for HIV, TB and malaria to those who most need it.
"By bringing forward this payment we're wasting no time in getting life-saving programmes off the ground. We're accelerating delivery because a delay will cost many lives.
"The review is about deciding where British support will make the most difference to the lives of the world's poorest people. We want organisations to show they are providing value for money and can maximise their impact on the ground."
Published 21 December 2010