World news story
UK-Belgian Visitor Service receives 1,000th application
The UK and Belgian Ambassadors visited the UK visa application centre in Beijing to meet customers using the new UK-Belgian Visitor Service.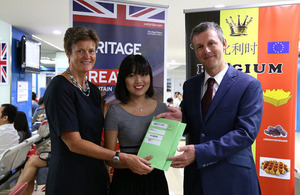 On 8 September, Barbara Woodward, Her Majesty's Ambassador to China, and Michel Malherbe, the Belgian Ambassador to China, met applicants using the new UK-Belgian Visitor Service – in the week it was expected to receive its 1,000th application.
They were given a tour of the centre to find out more about the service, which was launched on 1 July.
They also met lucky customer and Beijing resident Peng Wen, a former King's College London student who is planning to travel the UK and Belgium later this month, with her visas and some British- and Belgian-inspired gifts.
Barbara Woodward said:
The UK and Belgium are delighted to have received 1,000 UK-Belgian Visitor Service applications in just over two months. These figures prove this service is providing what customers want and we expect applicant numbers to keep rising.

We will continue to develop this service in partnership with the Belgian and Chinese governments to make sure more and more Chinese people can benefit from this option in the future.
Belgian Ambassador Michel Malherbe marked the moment by offering the lucky applicant a small (but real!) diamond from Antwerp, the world capital for cut diamonds.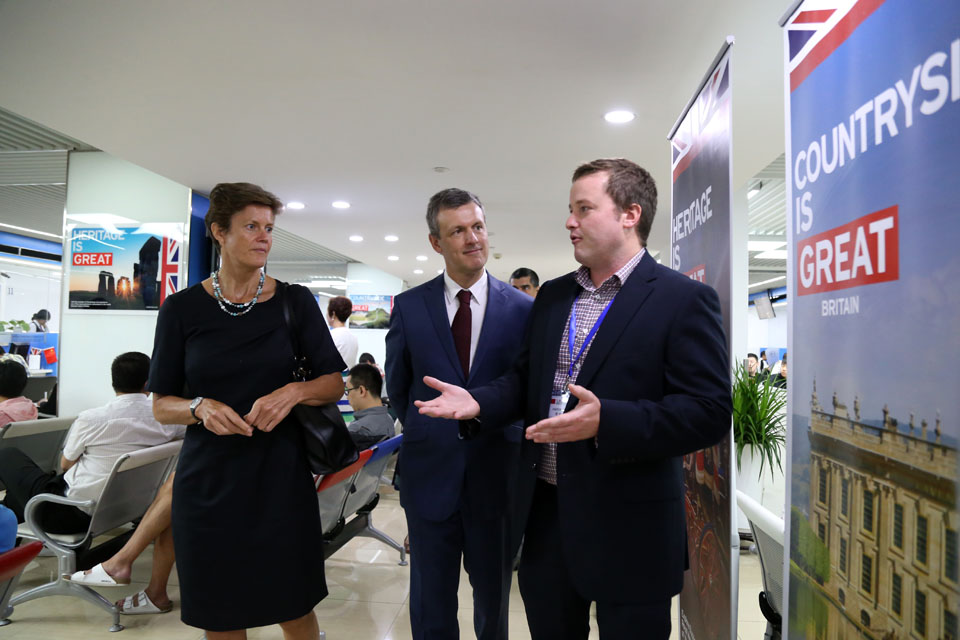 The UK-Belgian Visitor Service was introduced in response to customer demand and is a world-first, creating a one-stop shop for Chinese visitors to the UK, Belgium and the rest of Europe.
It allows Chinese customers to submit their visa applications for both countries during a single visit to a UK visa application centre in either Beijing, Guangzhou and Shanghai.
Customers can apply and pay for UK and Belgian visa applications online – using just one set of supporting documents – then book a single UK visa appointment to complete the process. On average, customers are currently receiving both visa decisions within eight days.
The newest customer option further strengthens the already excellent visa service delivered by the UK in China in response to continuing record-breaking growth. The UK's latest statistics show that in the year ending June 2015, we issued almost 20% more visitor visas (377,427) than the previous year.
More than 950 customers have used the UK-Belgian Visitor Service between 1 July and 7 September.
Published 9 September 2015