World news story
UK awards first investments under the Samridhi fund
The Rs 400 crores (£40m) Samridhi fund will be available to companies across eight low-income Indian states.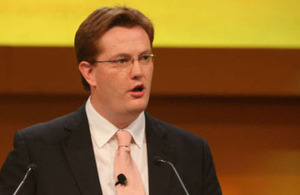 The first businesses to benefit from the UK Department for International Development's (DFID's) Samridhi fund were announced today by the UK's Chief Secretary to the Treasury, Danny Alexander. He was speaking at an event at the office of the Small Industries Development Bank of India (SIDBI), DFID's partners in the development fund.
The Rs 400 crores (£40m) Samridhi fund, where DFID has contributed £35m, will provide support to businesses which directly affect the poor as producers, consumers or workers, over seven years. It will be available to companies across eight low-income Indian states.
The first three projects the fund will support are:
Glocal Healthcare Systems which will receive £2.5 million to operate a chain of affordable hospitals benefitting 1.2 million rural patients in low income Indian states by 2020;
Gramco Infratech which has secured £1.5 million to build agricultural warehouses to provide storage and value added services to more than 3,000 farmers every season in the state of Madhya Pradesh; and
Shikhar Dairy which will receive £0.2 million to set up a professionally managed dairy that allows 300 landless rural poor to own cows and a dairy in Jhansi district of Uttar Pradesh.
Addressing the gathering, the Chief Secretary said:
I am delighted the first three companies have managed to secure money from the Samridhi fund and that more will be announced shortly. These winning projects are a great example of UK development funds complementing private sector investment and making a real difference to more than a million of people in India.
I am also pleased to see that we are moving from traditional development programmes to new partnerships focussed on supporting market based solutions to development challenges and sharing technical expertise. This approach reflects India's changing place in the world.
In addition to the three projects, funding for three other businesses is being finalised and these will be announced shortly. This will bring the total investment in the first tranche of investments to a total of £10 million in six enterprises across a range of sectors including agriculture, healthcare, clean energy and water. In total over 90 investment opportunities were assessed.
The fund, managed by SIDBI Venture Capital, is the first in India to focus on development projects in eight low income Indian states, Bihar, Uttar Pradesh, Madhya Pradesh, Odisha, Chhattisgarh, Jharkhand, Rajasthan and West Bengal.
Further information
The UK Government is determined to help reduce the inequalities of opportunity around the world. We believe that promoting global prosperity is both a moral duty and in the UK's national interest.
In November 2012, the two governments agreed that the UK's programme of financial grant aid to India will end responsibly, with final payments expected in 2015. This modern UK – India development partnership reflects changing global economic trends.
Our partnership is increasingly about sharing skills and expertise on development, investing in private sector projects focussed on helping the poor while generating a return and strengthening our partnership with India on global development issues like food security and climate change.
The Governments of India and the UK are proud of our development achievements over the last 50 years. Together we have supported 1.2 million more Indian children to go to school since 2003. From 2011 – 2013 we have helped reach 2.9 million pregnant women and children under five with nutrition programmes in eight states.
For further information contact Anshuman Atroley, Communications Manager, DFID India, Tel 011- 4279 3435; +91-98101 69262
Follow UK in India on Twitter, Facebook, Flickr, YouTube, LinkedIn, Storify, Eventbrite, Blogs, Foursqare
Published 28 October 2013