World news story
UK attracts record investment from Australia
New FDI figures show record Australian investment in the UK in 2014-15. UK maintains position as top investment destination in Europe.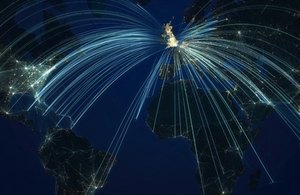 2014-15 foreign direct investment (FDI) has resulted in over 100,000 new and safeguarded jobs in the UK
Attractiveness of UK as an investment destination confirmed as UK's FDI stock reaches £1 trillion
The UK received the highest number and value of FDI projects in Europe in 2014.
Australia remains in top ten for investment sources and the number of Australian FDI projects has increased 17%.
The UK has maintained its position as the number one destination for FDI in Europe after attracting a record number of FDI projects, bringing in the largest financial value and associated jobs over the past year. Australia was the 8th largest source of investment.
The annual investment figures from UK Trade & Investment (UKTI) for the 2014/15 financial year show the UK attracted 1,988 FDI projects - 12 per cent more compared to 2013/14, estimated to have brought with them almost 85,000 new jobs and 23,000 safeguarded jobs across the UK.
The UK's strong performance during 2014 has seen the country's inward FDI stock – the value of accumulated FDI in the UK – break the £1 trillion level for the first time. This is the highest in Europe and third in the world after the United States and China.
Australian investment in the UK contributed 81 FDI projects – 17% more than in 2013/14 - and over 4,000 new and safeguarded jobs – a 33% increase.
Consul General and Director General of UK Trade & Investment Australia and New Zealand, Nick McInnes said:
The UK is a great place for entrepreneurs and corporations to put their energy, their ideas, their money and their talents to work and the strong increase Australian investment in the UK in the past year is a strong endorsement of this. Australia is consistently among the 10 largest investors in the UK each year.

The Government will continue to work hard to attract investment from across the globe to further strengthen the UK economy.