Press release
UK announces private finance initiative to tackle climate change
UK announces investment to IFC Catalyst Fund has reached approximately £177 million for developing countries' climate change projects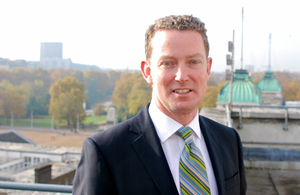 Press notice: 13/009
The UK Government alongside the IFC, Canada and the State Oil Fund of the Republic of Azerbaijan (SOFAZ) is pleased to announce first close of the IFC Catalyst Fund, which has reached investment of US$281 million, (approximately £177 million). UK investment, from the UK's International Climate Fund, is US$80 million (approximately £50 million).
The IFC Catalyst Fund is a commercial, private equity fund which will invest in sub-funds and projects in developing countries, focussing on renewable energy and energy efficiency projects.
Gregory Barker, Minister of State for DECC said:
"Private sector investment is crucial to achieving the scale of finance needed to mitigate against dangerous climate change and adapt to its effects. This is why the UK is committed to using our international climate finance to support developing economies to accelerate private sector investment in low carbon, climate friendly projects.
"I am delighted that the IFC Catalyst Fund has reached this milestone. This is an important first step to the Fund going on to catalyse further investment in to innovative climate projects and transform the private equity market."
Notes to editors:
The IFC Catalyst Fund is one of two private equity funds of funds that make up the UK's "CP3" (Climate Public Private Partnership) Project. The other fund – "CP3 Asia" will be focussed solely on Asia and will be managed by Asia Development Bank and a commercial fund manager and will focus more on co or direct investments. The Asia fund is aiming for first close later this year.

The aim of CP3 is to speed up the flows of private finance into climate investments. Investment from pension funds or sovereign wealth funds investment is essential to build the $4.3 trillion low carbon infrastructure – more than 75% of which is needed in developing countries. The CP3 funds and projects will establish a series of investment track records to demonstrate that investments in climate-friendly infrastructure in developing countries are not just ethically right but also commercially viable.

The IFC Catalyst Fund has been successful in attracting investment from the State Oil Fund of Azerbaijan, a commercial investor. Further commercial investors or pension funds are anticipated to invest at further closes.

The CP3 project is a joint project between two UK departments, the Department of Energy & Climate Change (DECC) and Department for International Development (DFID).
Published 25 January 2013