World news story
UK announces new funding for UXO clearance in Laos
This was published under the 2010 to 2015 Conservative and Liberal Democrat coalition government
New contracts awarded to UK charities Mines Advisory Group and The Halo Trust to remove and destroy mines in Laos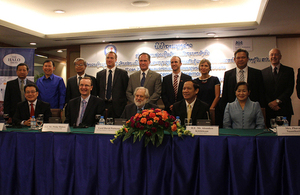 The UK Government will reduce the daily threat of fatality and injury to thousands of rural villagers across Laos, a country historically renowned for being the most heavily bombed country per capita, with new funding of £2.9m million, the UK Ambassador Philip Malone announced at a press conference in Vientiane.
Ambassador Malone confirmed the allocation of new funding from the UK government's Department for International Development (DFID) during the third visit to Laos by the UK's Trade Envoy, Lord David Puttnam. The funding will be awarded to UK clearance operators Mines Advisory Group (MAG) and The Halo Trust to remove and destroy thousands of unexploded ordnance (UXO) in Laos, as well as run vital Mine Risk Education programmes to teach rural communities to identify and report mines to local authorities. A third tranche of funding was also awarded to Norwegian People's Aid and the Geneva International Centre for Humanitarian Demining (GICHD) for capacity development and mine action support to the Lao PDR.
This funding will clear and release over 3,200,000 square metres of land in Laos over a two year period, benefiting at least 115,000 people across Xieng Khouang and Savannakhet provinces – two of the poorest and most contaminated provinces.
As well as saving lives and reducing casualties, the funding will make travelling to schools and hospitals safer, and release land to benefit local economies and break ground for aid agencies to support agricultural expansion, schools and roads.
Despite years of peace, each year there continues to be over 100 people in Laos killed or injured by discarded and forgotten munitions, most casualties sustained from individual bomblets or "bombies" from anti-personnel cluster bombs. These explosive remnants left from decades of conflict pose a continuing obstacle to agriculture and a special threat to children, who are attracted by the toylike devices.
A new survey and operational planning tool will be used as part of the funding allowing identification of UXO contaminated areas without the need for deploying of survey teams. This will enhance operational efficiency and ultimately provide a safer environment for communities affected by UXO contamination.
The UK government has supported UXO clearance work in Laos since 1998 with funding over £10.5 million. 2014 marks the 20th anniversary of MAG operations in Laos. During this time, the Mines Advisory Group has released over 44,000,000 square metres of land from UXO contamination and destroyed 180,000 items of UXO, directly benefiting over half a million people.
The Halo Trust, whilst relatively new to Laos with operations commencing in the country in January 2013, is the world's oldest and largest humanitarian mine clearance non-profit organisation.
For further information on the work of both charities in Laos visit their websites Mines Advisory Group and The Halo Trust.
Document information
Published: 17 October 2014