World news story
UK and Zambian teachers forge professional partnerships
Nine primary schools in the UK have formed links with Zambian schools to prepare young people for life and work in the 21st century.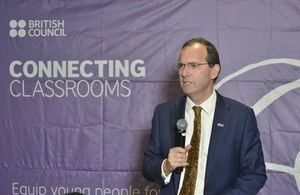 Speaking at the Professional Partnership Conference for teachers under the connecting classrooms project in Lusaka today, British High Commissioner to Zambia, Fergus Cochrane-Dyet, said:
Access to the right kind of education is very important in ensuring our children are able to thrive in today's globalised world. As much as core educational subjects continue to be important, the ability of our students to understand and develop softer skills will be vital to their success. The Connecting Classrooms project is a great opportunity to share ideas and learn from each other. This visit, and the conference in Lusaka, provides an excellent opportunity to showcase the value of the project and to consider how we can implement it more broadly in Zambia. The partnership between UK and Zambian schools demonstrates our commitment to establish long term relationships between governments and communities in our two countries.
Head teachers from nine schools in Northern Ireland, England and Wales in the UK, have forged new partnerships with nine schools in Lusaka and Kitwe to share their experiences and successes in teaching and implementing core skills into their respective curricula. Nyumba Yanga, Ngwelele, Ngo'mbe, Chainda, Kabulonga, Lotus, Northmead, Rokana (in Kitwe) and Libala Stage 3 Primary Schools partnership with UK schools is part of the UK-funded Connecting Classrooms project, a unique global education programme. Connecting Classrooms is run in more than 30 countries by the British Council in partnership with the Department for International Development (DFID). It equips teachers with the knowledge and techniques to teach young people the skills they need to live and work in an increasingly globalised economy.
The programme enables teachers not only to teach these "21st century core skills" to children in their classroom, but also to visit partner schools in other countries to exchange insight and ideas on how to improve teaching and learning in their schools.
The Connecting Classrooms project has enabled 23 head teachers and teachers from St Pauls Primary School in Derry, Northern Ireland; St Teresa's Primary School in Loughmcrory, Northern Ireland; Roscavey Primary School in Omagh, Northern Ireland; McClintock Primary School in Omagh, Northern Ireland; St Columbkilles Primary School in Omagh, Northern Ireland; Brightside Primary School in Essex, England; Ysgol Cynwyd Sant in Bridgend Wales; Highfield Middle School in Northumberland, England and Greentrees Primary School from Salisbury in England to visit their partner schools in Zambia to share their experiences and successes in teaching and implementing Core Skills into their respective curricula. The visit will culminate in a conference on 17 February 2017 at the Radisson Blu Hotel in Lusaka, providing a platform for their success to be widely shared.
Speaking about their time in Zambia, Mr Sam Dennison, who is representing the UK team, said:
We are excited about this professional partnership with Zambian primary schools. This week has shown us the potential that the students in Zambian schools have, and I know our children in the UK are really looking forward to working with their partners in Zambia". Commenting on the visit, Headteacher from Lotus Primary School, Ms Christine Tembo said: "We've enjoyed building the relationship with our partners from the UK; we've shared our teaching experiences during the week and we expect this visit to strengthen our partnership further".

Further information
Connecting Classrooms is a global education programme brought to schools by the British Council in partnership with DFID.
It is a fully funded learning journey that includes face-to-face and online courses, international professional partnerships and visit funding opportunities based around core skills.
The programme gives teachers and educational professionals the opportunity to develop classroom practice and develop ideas with like-minded teachers internationally.
Before a school can apply for a professional partnership, it must complete one of the British Council's fully-funded courses on teaching the core skills.
To facilitate collaboration face to face, schools in the UK can apply for a £3,000 grant to take part in a project with an overseas school.
By developing and networking with thousands of teachers across the world, the British Council aims to help young people develop the knowledge, skills and values to live and work in a globalised economy.
The British Council has committed £17 million over three years to work across the globe. The UK government has additionally contributed £17 million to support partnerships between schools in the UK and developing countries.
Thousands of schools will be supported to work together in over 30 countries across the world; to enhance teaching and learning for teachers and young people.
For more information about Connecting Classrooms, please visit Schoolsonline or contact Schools@britishcouncil.org
British Council
The British Council creates international opportunities for the people of the UK and other countries and builds trust between them worldwide. It is a Royal Charter charity, established as the UK's international organisation for educational opportunities and cultural relations. For more information, please visit: British Council website.
The Department for International Development
DFID leads the UK's work to end extreme poverty, building a safer, healthier, more prosperous world for all of us which is firmly in the UK's national interest. We're ending the need for aid by creating jobs, unlocking the potential of girls and women and helping to save lives when humanitarian emergencies hit. Find out more at www.dfid.gov.uk

For more information about Connecting Classrooms, please contact:
Ackim Banda, Projects Manager:
Email: Ackim.banda@britishcouncil.org.zm


Published 17 February 2017