World news story
UK and US kick off Invictus Games with 100 days to go
London to welcome personnel, both active duty and veteran service members, from 13 countries whose troops have fought together recently.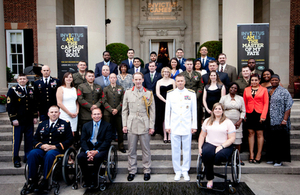 At the British Embassy, the British Ambassador to the United States, Sir Peter Westmacott, hosted 20 of America's wounded, ill, and injured service members and veterans who will shortly participate in the Invictus Games, to be hosted in the UK later this year. The reception, attended by athletes and those who are an integral part of supporting the athletes on their road to these international games, was an expression of the camaraderie both nations share on and off the battle field.
In just three months' time, London will welcome personnel, both active duty and veteran service members, from 13 countries whose troops have fought together recently. The reception was an opportunity to celebrate their achievements, recognize the power of sport as a tool for rehabilitating the wounded, and look forward to the games.
Speaking about the Games, Ambassador Westmacott said, "The inaugural Invictus Games in London will be a unique celebration of the courage and dedication of members of our Armed Services who have been wounded serving their country and defending our values. Even better, teams from 12 other allied nations will be joining them. I have had the privilege of joining Prince Harry at the Warrior Games in Colorado Springs, which inspired the Invictus Games, and of hosting many wounded warriors at my home. So I have heard what they have been through and seen first-hand some of the extraordinary things they're capable of. We are in for a wonderful Games."
In February 2014, the UK Ministry of Defence invited the United States to participate in the Invictus Games. Gen. Martin E. Dempsey, chairman of the Joint Chiefs of Staff, graciously accepted the invitation on behalf of the United States and joined in supporting the UK's international effort to bring attention to the critical role military adaptive sports plays in the rehabilitation of recovering service men and women.
"The Invictus Games demonstrate the power of ability over disability and an acknowledgment of all that is good about our profession," Gen. Dempsey said. "Our partnership with Great Britain, as they host these games and working together with wounded warriors over the past decade, has clearly provided a special camaraderie for all involved."
Military adaptive sports continue to benefit the rehabilitation of wounded, ill, and injured service members. Participation improves their self-image, self-esteem, leadership, and quality of life.
One hundred American active duty and veteran wounded, ill, and injured Service members will participate in athletics, archery, wheelchair basketball, road cycling, indoor rowing, wheelchair rugby, swimming, sitting volleyball and a driving challenge at Invictus. America's athletes were selected during trials held by each military service and U.S. Special Operations Command (USSOCOM) earlier this year.
Dr. Jonathan Woodson, assistant secretary of defense for health affairs, added, "The Invictus Games will be a great opportunity for our service members to demonstrate their personal courage and determination on the same playing field as their fellow military team members from many nations. Their competition is a testimony to the great care they have received within the military health system and it will be an honor to watch them compete."
The Office of Warrior Care Policy spearheads the Department of Defense's program for the rehabilitation of America's wounded, ill, and injured service members and veterans through the Military Adaptive Sports Program (MASP). MASP provides recreational activities and competitive opportunities to all recovering service members to improve their physical and mental quality of life through the continuum of recovery, rehabilitation and transition.
"I've always been competitive. When your life changes as dramatically as mine, there's a chance you might give up. I never let that happen to me, and I never will. Everyone knows if you quit before you start, you're done," shared TSgt Israel Del Toro, USAF, who was injured in an IED attack in Afghanistan. "I will never let the guys who set that bomb get the satisfaction that they ruined my life."
The Invictus Games, inspired by Prince Harry's visit to the 2013 American Warrior Games, will bring teams from 13 nations to London from Sept. 10 – 14. The event is designed to use the power of sports to inspire recovery, support rehabilitation and generate a wider public understanding of the incredible grit, determination, perseverance and contagious positive attitudes of the world's Warriors.
Invictus Games Celebrity Support Film
The event will be held in Queen Elizabeth Olympic Park (the venue for the London 2012 Olympics) and at the Lee Valley Athletics Centre.
Published 2 June 2014