World news story
UK and Taiwan sign MoU on offshore wind industry
The British Office and Taiwan International Ports Corporation signed a Memorandum of Understanding (MoU) on joint co-operation of Taiwan's offshore wind development.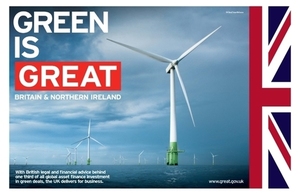 At the Asia Pacific Wind Energy Expo in Kaohsiung today, the British Office in Taipei and Taiwan International Ports Corporation (TIPC) signed a Memorandum of Understanding (MoU) on joint co-operation in respect of the development of Taiwan's offshore wind industry. The signing was witnessed by Wen-Sheng Tseng, Deputy Minister of Economic Affairs and representatives from leading companies in the UK offshore wind supply chain.
Ms. Catherine Nettleton, Representative of the British Office, said:
I am delighted to be signing this Memorandum of Understanding between the British Office and Taiwan International Ports Corp. at this exciting time. I hope that our collaboration will make a significant contribution to the development of Taiwan's port infrastructure during the construction, operation and management phases of Taiwan's offshore wind farms. This MoU signing coincides with the recent announcement by the UK government of a new offshore wind sector deal in the UK, which commits more government resources to technology innovation, will provide long-term certainty for industry to deliver a low-cost and clean energy system for the UK, and will broaden our offshore wind skills base. The UK has the biggest offshore wind capacity in the world, and through this we have built up a great deal of experience and expertise that we look forward to sharing with TIPC and other offshore wind partners in Taiwan.
Mr. Ying-Feng Chung, President of Port of Taichung, TIPC said:
The operation of a port requires omnidirectional international perspectives, constant research & judgment on industry needs, and knowledge on global economic & trade outlook and green energy & environmental protection trends in order to plan for the operational development of the port. In order to fit in with the government's plan for the development of off-shore wind farms, the Port of Taichung, TIPC, has formulated plans to provide diversified services, including port infrastructure (such as heavy-loaded wharf and land), logistics services, wind turbine O&M base, and wind farm training. I am very glad that the Port of Taichung will be welcoming the pre-assembly operation of Taiwan's first pilot wind farm in March this year. In the future, with the progress of constant wind farm construction, we can see the port area be busy with operations on large turbine components and wind farm support vessels both onshore and offshore. Signature of MoU with the British Office Taipei aims to borrow the UK's forward-looking development experience in offshore wind farms in order to broaden our global horizon as a green energy port and enhance the performance of related port facilities and services. Hopefully, in the future, we can have even more exchange of information on related offshore wind harbour and marine affairs.
Under this MoU, further exchange in the areas of policy, strategy, technology, operations and maintenance to promote offshore wind port and marine sector will be accelerated adding on the already close co-operation between the UK and Taiwan offshore wind sector, as the two parties agreed to increase information sharing and co-operation.
Further information
Know more about the UK Offshore wind sector deal.
Published 13 March 2019