World news story
UK and Taiwan share experience on renewable energy
A delegation from the UK visits Taiwan from 3 to 7 November 2014 to share the UK's experience on renewable energy,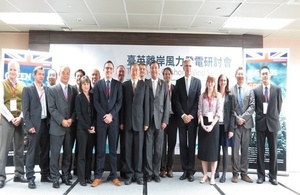 A delegation from the UK, led by Mr Huub den Rooijen, Head of Offshore Wind of the Crown Estate, visits Taiwan from 3 to 7 November 2014 to share the UK's experience on renewable energy, especially on the offshore wind energy industry. This visit, organised by the British Trade & Cultural Office (BTCO), follows other high-level climate change engagement, including visits by Sir David King, UK Special Representative for Climate Change in February and Professor Dame Julia King, UK Low Carbon Business Ambassador in September this year.
15 UK companies will be part of the trade mission, with extensive expertise of offshore wind industry development, including consultants for strategic project planning, vessel design, certification, fishery management, geotechnical planning, financing and equipment suppliers.
During their visit to Taiwan, they will participate in the "Taiwan-UK Offshore Wind Energy Seminar" on 6 November 2014, to share UK's experience on renewable energy. This seminar is in collaboration with the Bureau of Energy of Ministry of Economic Affairs, Industrial Technology Research Institute and the BTCO, focussing on Offshore Wind Power Asset Management, Offshore Health & Safety, Offshore Wind Certification, etc. Mr Huub den Rooijen, Head of Offshore Wind of the Crown Estate, will deliver a special presentation on the subject of "Building Long-Lasting Relationships: Incorporating Stakeholder Perspectives in the Development of UK Offshore Wind".
The BTCO and Bureau of Energy will also jointly hold the ninth annual "UK Taiwan Renewable Energy Roundtable" to discuss practical ways of increasing cooperation and technology sharing between the UK and Taiwan. The topics to be discussed include specific business opportunities and challenges on which both Taiwan and Britain can collaborate in the off-shore wind industry. The delegation will also meet officials from Taiwan Power Company, Industrial Technology Research, and some Taiwanese companies in renewable energy industry.
Britain is already the world leader in offshore wind, with 4GW of capacity operating today and a further 1.5GW in construction. Between now and 2020, this operating capacity is expected to grow to between 8 and 15GW – more than doubling existing capacity and representing the largest expansion in any class of renewable energy technology. In the UK, more than 1 million jobs have so far been created in renewable energy and the total industry is worth £117 billion. Britain is now becoming one of the world's most attractive countries to invest in renewable energy projects.
Notes to editors:
The Crown Estate is an independent organisation, created by an Act of Parliament with the role of ensuring that the land and property they invest in and manage are sustainably worked, developed and enjoyed to deliver the best value over the long term. The brief introduction of Crown Estate and CV of Mr Huub den Rooijen are attached.

Taiwanese authorities have publicly committed to cut emissions to 2005 levels by 2020 and 2000 levels by 2025, and have provided a total of £30million in subsidies to develop offshore wind farm projects. By 2030 Taiwan will increase its overall wind power capacity (onshore and offshore) from 530mw to 3GW under an ambitious renewable energy plan. These projects are expected to generate £10.4 billion in business opportunities for local and international equipment manufacturers, industry supply chain and services.
Published 4 November 2014