World news story
UK and Taiwan share experience on offshore wind farm financing
This was published under the 2010 to 2015 Conservative and Liberal Democrat coalition government
The British Trade & Cultural Office and Bureau of Energy of MOEA co-hosted the UK-Taiwan Offshore Wind Project Financing Seminar today.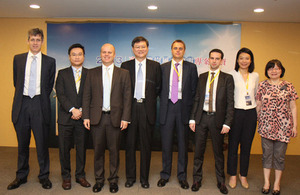 The British Trade & Cultural Office and Bureau of Energy of MOEA co-hosted the "UK-Taiwan Offshore Wind Project Financing Seminar" on 25 September 2013 in Taipei. The seminar shared UK experience in financing and evaluating the risks of offshore wind farms and sought to enhance cooperation between UK and Taiwan in the sector.
Mr Damion Potter, Acting Director of the British Trade & Cultural Office, said:
The development of energy and its financing is a key topic for governments around the world. The UK Government has committed to reduce CO2 emissions by 80% by 2050. Offshore wind will play a key role in that effort, indeed, in 2012 the UK became the first nation globally to reach 3 GigaWatts of installed offshore capacity. I am pleased to learn that Taiwan will be developing three offshore wind farms. British companies would welcome opportunities to work with Taiwanese partners on Taiwan's offshore wind projects.
The UK will be one of the leading offshore wind markets over the next five years. There are 54 offshore wind farms globally, of which the UK accounts for 19. The UK government aims for renewable energy to meet 15% of the UK's energy needs by 2015. London Array Project, the biggest wind farm in the world, is under construction as part of a £2.9 billion development. Its 630 Mega Watt first phase of 175 turbines became operational in late 2012, supplying electricity for almost half a million homes.
During the seminar, Mr Kelvin Wong, Director of Project & Export Finance, Standard Chartered Bank, set out how to structure finance for a bankable renewable energy projects in Asia. Mr Remi Degelcke, Associate Director of Project and Export Finance, Global Banking at HSBC talked about key considerations and the bank's experience of financing offshore wind farms. Mr Philip Thomson, Partner of Ashurst LLP discussed the legal framework for financing offshore wind farms taking into account risk.
Mr Alexander Ssu-yuan Hu, Director of the Thousand Wind Turbines Promotion Office also introduced Taiwan's Offshore Wind Energy Policy and Mr Chi-Chien Kang from the Industrial Technology Research Institute introduced project financing and Europe offshore wind energy projects.
Document information
Published: 25 September 2013