World news story
UK and Singapore supports Burma in a Legal Aid Training Programme
Together with the British Embassy in Rangoon, we are supporting a week-long training opportunity for Burmese legal officials in Singapore.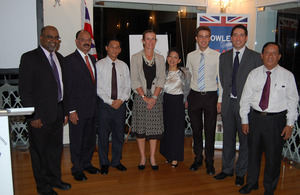 The British High Commission Singapore held a reception at the High Commissioner's residence to welcome the participants of the Singapore-International Bridges to Justice Joint Legal Aid Training Programme, and Burmese officials including His Excellency U Tun Tun Oo, Deputy Attorney General. Mr U Tun Tun Oo was also the Head of the visiting Delegation.
British and Singaporean lawyers were present at the reception as well.
At the event, the British Deputy High Commissioner to Singapore and Acting Head of Mission Ms Judith Slater referred to the announcement in Budget 2013 by the Chancellor of the Exchequer that the UK will meet its target to spend 0.7% of gross national income on aid, becoming the first member of the G8 group of countries to meet this long-standing UN target.
The UK's Department for International Development (DFID) will spend an average of £46 million a year in Burma until 2015. This support is delivered through the United Nations and reputable international and local non-governmental organisations (NGOs) and covers a wide range of areas.
Karen Tse, Founder and CEO of International Bridges to Justice spoke at the event. Karen founded Geneva –based International Bridges of Justice in 2000 to promote systemic global change in the administration of criminal justice. Karen first developed her interest in law and human rights after observing Southeast Asian refugees detained in prison without trial.
Paul Landless and Matthew Brown of UK Based law firm Clifford Chance, another supporter of this week's training programme, spoke about the work that Clifford Chance is doing in Burma.
Published 15 May 2013