UK and Russia hold human rights talks
Ahead of Prime Minister David Cameron's visit to Sochi, British and Russian officials met in Moscow on to hold talks on human rights.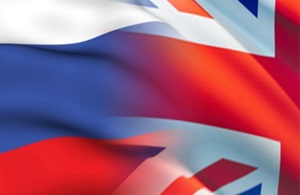 Taking place annually, the UK-Russia Human Rights Dialogue enables discussion of pressing domestic human rights issues in Russia and the UK – and also international cooperation in the human rights sphere.
The UK delegation, led by Foreign and Commonwealth Office (FCO) Eastern Europe and Central Asia Director Colin Roberts, raised a number of concerns about recent developments in Russia, including the impact on civil society of the new NGO "foreign agents" law. Discussions also covered themes such as elections and democracy, the rule of law, the protection of human rights defenders and journalists, the situation in the North Caucasus, and lesbian, gay, bisexual, and transgender rights.
The talks also referred to recent positive developments in Russia in the sphere of disabled people's rights. After the signing during London 2012 of the Olympic Communiqué in support of human rights, both sides agreed to continue cooperation in this area and noted the potential of the Sochi 2014 Winter Paralympics to give a further boost to disabled people's rights in Russia.
Representatives of the UK and Russian Ministries of Justice, participating in the talks for the first time, agreed to take forward cooperation in the justice sector. UK Justice Minister Lord McNally will visit Russia for the St Petersburg International Legal Forum next week.
British Embassy official James Ford, who participated in the talks, expressed gratitude to Russia for hosting the dialogue in Moscow:
The UK Government has expressed concern about recent human rights developments in Russia. In this context we value the continued opportunity to discuss these issues openly and frankly with the Russian authorities and raise issues of concern face-to-face as well as in public.
The current FCO annual report on Human Rights and Democracy can be found here.
Published 14 May 2013