World news story
UK and Punjab's strong successful partnership
UK's Secretary of State for International Development Justine Greening and Chief Minister of Punjab Mohammad Shahbaz Sharif met in Islamabad.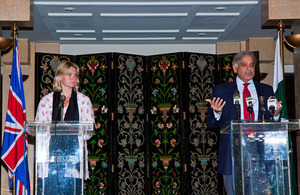 UK's Secretary of State for International Development Justine Greening and Chief Minister of Punjab Mohammad Shahbaz Sharif said:
The UK and Government of Punjab has a strong and successful partnership. We will continue to work together, with the UK supporting the Govt of Punjab to deliver on its ambitious commitments to create more jobs, stimulate growth, transform education, and provide better public services to millions of men, women, and children in Punjab, helping them to fulfil their potential.
Earlier today we announced that 135,000 of the poorest women and men in Punjab will be trained in job skills by 2015; some 20,000 have already been trained (half of them women) over the last couple of years and are now earning more money to help lift their families out of poverty.
Private sector plays a vital role in creating jobs, driving growth, and so reducing poverty. But Pakistan's global competitiveness has fallen sharply over the last decade. We have just been talking to business leaders on what the Government of Punjab can do to reverse this by reducing barriers and attracting more investment in the province, and how the UK can support that.
We agreed on a strategy where the UK and the World Bank will help the Govt of Punjab to enhance government efficiency, reform regulations, identify and removes constraints, and simplify processes. Small businesses in particular will benefit, where many of the poorest are employed. This will help make Punjab the place to do business, and put Pakistan back on a trajectory to compete globally.
British Prime Minister David Cameron was in Pakistan only last week, where he signalled confidence in Pakistan's economic future and strengthened business ties between our two countries.
The UK is deeply committed to supporting the Govt of Punjab in the development of the province and will support its reform efforts to improve the planning, budgeting, and delivery of essential services, including healthcare and education, for about two million people across Punjab.
This includes using innovative methods to tackle corruption and increase transparency, such as mobile phone and satellite-imaging to monitor and improve services. It also requires action to raise more tax to invest in improving public services, which the UK will support in both collection and how to spend transparently.
And the UK will support the Govt of Punjab to recruit and train 45,000 new teachers, and improve test results in core subjects including Maths and English. Thanks to our work together, there are already an additional 35,000 teachers turning up to school and 750,000 more children attending school every day. More than 3.3million children in schools in Punjab will benefit from our support in 2015.
The UK will also support Govt of Punjab's action to decrease maternal mortality by training mid-wives and ensuring rural villages have access to vital healthcare.
Our strong partnership is based on a resolute commitment to reduce poverty, respect human rights, strengthen financial management, tackle corruption, and promote transparency and accountability to citizens.
Our joint priorities for the coming years for Punjab are to support the economic growth of the province and attract investment, provide skill training and create jobs, increase the number of children going to school, and improve delivery of health-care and other public services.
We are confident the strong UK-Punjab partnership will continue long in the future as the UK supports the Govt of Punjab's ambitions to deliver a more prosperous and developed province, lifting millions of men, women, and children out of poverty and giving them a brighter future.
The UK Development Secretary and Chief Minister of Punjab agreed today that Punjab will follow a comprehensive 'investment strategy' with specific targets on investment, GDP growth, jobs and exports. A private sector steering group will be formed to follow through this strategy and monitor progress. DFID, World Bank and ADB will provide support on this to help reform the investment climate in Punjab.
The UK could potentially invest up to 100 billion rupees (approx. £658 million) in the development of Punjab between 2007 and 2019.
Earlier today UK Development Secretary Justine Greening met with political leaders including Finance Minister Ishaq Dar to discuss prospects for economic stability and growth, and plans to tackle poverty over the coming years.
Pakistan is now one of the UK's largest recipients of development investment. Over the coming years the UK will invest heavily in supporting economic growth by providing this practical job training to tens of thousands of the poorest people, and enabling millions more to access financial services for the first time, such as microfinance loans, so that they can lift themselves out of poverty. The UK investment is dependent on continuing to secure value for money and results.
Other priorities for the UK include working with Pakistan to benefit four million children in school and decrease the maternal mortality rate by funding skilled midwives, nurses or doctors for one million births.
Media enquiries
In Pakistan, contact DFID-Pakistan media team on + 92 (0) 51 201 2516 / 2580.
Notes to editors
The Department for International Development (DFID) is the UK's Government department responsible for promoting sustainable development and reducing poverty. The central focus of DFID is a commitment to the internationally agreed Millennium Development Goals to be achieved by 2015.
Published 11 July 2013