World news story
UK and Peru sign defence memorandum of understanding
The agreement will allow expertise and knowledge exchange in the fields of defence and military intelligence.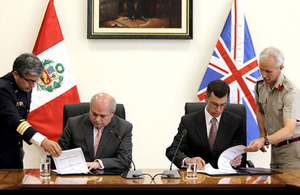 Defence Minister Pedro Cateriano Bellido, and British Ambassador to Peru, James Dauris, signed an agreement today to boost cooperation in the fields of defence and security.
The agreement was signed in the Hall Gran Almirante del Perú Miguel Grau at the Army Headquarters in San Borja and was attended by Deputy Defence Minister Jakke Valakivi along with industry officials.
Minister Cateriano highlighted that the signature of this agreement between Peru and the United Kingdom of Great Britain and Northern Ireland will be beneficial to both nations.
Meanwhile, Ambassador James Dauris said:
The signature of this agreement is something we really value. It is an important expression of our common interest in broadening and deepening our relationship in defence matters.
The agreement will enable the exchange of expertise and knowledge in the fields of defence, military intelligence and cooperation in contouring unconventional threats.
It will also facilitate cooperation in military education and planning, collaboration in research and development of military technology in fields such as logistics, natural disasters, and cultural activities.
Published 23 October 2013