UK and partners unite to combat tropical diseases
Private and public partners unite to combat 10 neglected tropical diseases by 2020.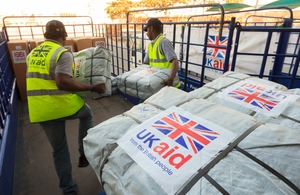 Today in London, 13 pharmaceutical companies, the U.S., U.K. and U.A.E governments, the Bill and Melinda Gates Foundation, the World Bank and other global health organisations announced a new, coordinated push to accelerate progress toward eliminating or controlling 10 neglected tropical diseases (NTDs) by the end of the decade.
Uniting efforts with NTD-endemic countries, partners pledged to bring a unique focus to defeating these diseases and to work together to improve the lives of the 1.4 billion people worldwide affected by NTDs, most of whom are among the world's poorest.
Use an ****interactive map** to see the extent of NTDs and see the **NTD infographic**.**
In the largest coordinated effort to date to combat NTDs, the group announced at an event at the Royal College of Physicians that they would:
sustain or expand existing drug donation programs to meet demand through 2020
share expertise and compounds to accelerate research and development of new drugs
provide more than $785 million to support research and development efforts and strengthen drug distribution and implementation programmes. 
"The world has come together to end the neglect of these horrific diseases which needlessly disable, blind and kill millions of the world's poorest," said Stephen O'Brien, Minister for International Development. "Britain and other partners are leading the way to provide critical treatments to millions of people, which allow children to attend school and parents to provide for their families so that they can help themselves out of poverty and eventually no longer rely on aid."
"Today, we have joined together to increase the impact of our investments and build on the tremendous progress made to date," said Bill Gates, co-chair of the Bill & Melinda Gates Foundation. "This innovative approach must serve as a model for solving other global development challenges and will help millions of people build self-sufficiency and overcome the need for aid." The Gates Foundation announced a five-year, US$363 million commitment to support NTD product and operational research.
Published 30 January 2012