World news story
UK and Mexico, working together for prosperity
Prosperity Fund is a demonstration of the UK's commitment to invest in Mexico's future.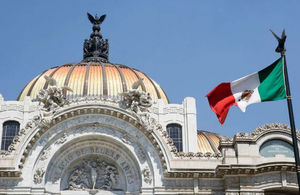 In November 2015, the British government established a Prosperity Fund that will reach £ 1.3 billion in total over five years. This fund aims to support sustainable economic development, promote economic reform and business innovation for growth in partner countries. This year Mexico received over £ 6 million that will be invested in five sectors: energy, financial services, future cities, education and improving the business environment.
The investment in Mexico through the programmes run by the Prosperity Fund could exceed £ 50 million during the next four years. In Mexico we will work together with the Congress, the public sector, the private sector and civil society, we will experiences in order to stimulate sustainable economic growth and contribute to the reduction of poverty in the country. Moreover, we will generate greater opportunities for trade and investment between Mexico and the United Kingdom.
To improve the business environment (or good governance) we will work with Mexico to share best practices from the UK and strengthen institutions and accountability; and increase citizens' confidence through clear, transparent and consistent rules.
In the energy sector, which is crucial for the development of Mexico, UK will be sharing its extensive experience and technology in the fields of renewable energy, oil and gas, energy efficiency and electricity. Currently we are focusing on projects of industrial and environmental safety, and social impact in renewable energy projects. In addition, we will be working with the Mexican government to help train and introduce best practices for the implementation of the Energy Reform.
Mexicans face important challenges in matter of urbanity. We aim to share UK experience in future cities to improve the quality of life citizens. The programme is focused on sustainable and innovative urban development, including infrastructure, digitalisation and mobility. We will support smart planning in cities with inclusive models that promote services to improve health, security and wellness for citizens, as well as increase productivity and prosperity.
As for financial services, we will be working together to boost economic growth, improve financial inclusion and increase the green economy in Mexico. We will be sharing successful public policies and models used in the UK. The four areas where we will be offering support are financial inclusion, increasing financial penetration among small and medium enterprises (SMEs), development of new financial mechanisms and green finance.
Finally, our education programme seeks to impart some of the UK's excellence in education into Mexico's, academia, schools and institutions. The projects in the programme will focus on evaluation in education, technical curriculum development and strengthening English language education.
The Prosperity Fund is a demonstration of the UK's commitment to invest in Mexico's future and to strengthen the relations between our two countries.
Learn more about our Prosperity Fund! Please do get in touch with us if you have any questions or if you would like to get involved in our work by sending an email to ukinmexico@fco.gov.uk
Published 26 September 2016