UK and Mexico reveal joint target to double trade to £4.2 billion by 2015
Deputy Prime Minister Nick Clegg is in Mexico today, leading a delegation of more than 20 of Britain's companies.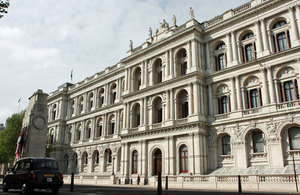 These include top engineering, construction and design firms as well as universities
The Deputy Prime Minister and Mexican President have agreed to set up a new UK-Mexico business forum, which will bring together key business leaders from both countries to help reach the ambitious trade target. They have agreed to set up a Mexican Chamber of Commerce in London to increase trade and investment flows.
The Deputy Prime Minister said:
"The UK Government is committed to strengthening our trade and investment links with the fastest growing economies of the world, including Mexico. During this visit, we have not only agreed to double trade, but we have set up ways to achieve this.
"As Mexico's economy continues to grow it provides huge opportunities for UK firms, particularly in infrastructure energy, education and retail.
"And as we set out in last week's Budget, Britain is open for business and we welcome investment from Mexico. The UK is one of the easiest places in the world to invest and do business and we are committed to making it ever better."
The Deputy Prime Minister is accompanied by Foreign Office Minister Jeremy Browne, and Universities Minister David Willetts.
Later today, the Deputy Prime Minister and Mexican President Felipe Calderon, chaired a business round table to discuss trade relations.
UK trade with the Latin American region increased by 30 per cent last year and bilateral trade in goods to Mexico, over the same period, went up by a third.
Around 350 British companies and 900 with British capital are already operating in Mexico and UK Trade & Investment has identified opportunities for UK companies in sectors such as infrastructure, energy, retail, advanced engineering, and education.
Mexico's National Infrastructure Plan, set up in 2007, set out an investment programme worth £140 billion. Part of this work involves building nearly 1,500 kilometres of railroad.
Among the UK businesses already based in Mexico are: HSBC, Invensys, Thomas Pink, Essential Nails, and Currie & Brown.
Facts
The UK is the fifth largest investor in Mexico over the past ten years, with nearly US $7.4 billion.
Around 350 British companies and 900 with British capital are operating in Mexico.
Mexico is the UK's second largest trading nation in Latin America after Brazil.
In 2010, UK exports increased by 28% compared to 2009.
In 2010, bilateral trade in goods between the UK and Mexico also increased by a third - totalling almost £1.9 billion.
Published 29 March 2011