World news story
UK and Japan work together to prevent killer bugs
Antibiotics are central to modern medicine but infections from antimicrobial resistant (AMR) bacteria cause 25,000 deaths per year in Europe, and in Asia, 1 child dies every 5 minutes from AMR bacterial infections.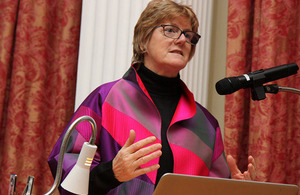 A team of UK health experts visited Japan last week, led by the UK's Chief Medical Officer, Professor Dame Sally Davies. They visited hospitals in Tokyo and met internationally renowned Dr Haruo Watanabe and his colleagues at the National Institute for Infectious Diseases. They learnt more about Japan's healthcare system and approaches to infectious disease surveillance and control.
At a symposium on infection control at the British Embassy, Japanese and UK delegates from across industry, academia, hospitals and government shared expertise to gain better understanding of the challenges, and to explore what approaches work and potential areas for future collaboration.
Professor Davies said, "Too many people around the world are dying from AMR. We appreciate Japan's help to raise awareness at the global level and I look forward to productive UK-Japanese collaboration."
The UK has managed a 90% reduction in MRSA (Multiple drug resistant S. Aureus) and 80% reduction in C. Difficile since concerted government action was launched in 2003. The issue of antimicrobial resistance remains a high priority and is being placed on the UK government's national risk register alongside terrorism and climate change.
In September this year the UK Department of Health, jointly with the Department of Environment, Food and Rural Affairs and Public Health England published the "UK 5 Year Antimicrobial Resistance Strategy 2013 to 2018". This sets out new cross-government UK strategy to slow the development and spread of antimicrobial resistance.
BACKGROUND
Professor Davies gave public lectures in Tokyo and Osaka on the UK's medical research infrastructure and discussed the potential for UK-Japan research collaboration and partnership for innovation. She also met with officials from the MHLW and MAFF to discuss how Japan and UK can work together on global action on antimicrobial resistance.
Speakers at the infection control symposium included:
Dr Susan Hopkins, a consultant in Infectious Diseases & Hospital Epidemiologist to Royal Free London NHS Foundation Trust and a Healthcare Epidemiologist for Public Health England
Prof Peter Wilson, a Consultant Microbiologist, Clinical Microbiology & Virology, at University College London Hospital
Dr Koji Miura, Assistant Minister for Technical Affairs, the Ministry of Health, Labour and Welfare
Dr Haruo Watanabe, Director General, National Institute of Infectious Diseases
Dr Norio Ohmagari, Director of Disease Control and Prevention Centre from the National Centre for Global Health and Medicine
11 UK companies and their Japanese distributor demonstrated their products and services, available in Japan, that help combat infection and AMR in particular: Bioquell, BIOtAK, Dycem, Aquafilm®, HPC Healthline, MEDISAFE, SafeDon, GAMA Healthcare, ICNet, GlaxoSmithKline and Hygiena.
Published 26 November 2013