News story
UK and Indonesia strengthen their relationship with nine new higher education partnerships
Universities and Science Minister David Willetts today signed a joint framework on closer education and skills cooperation with Indonesia&rsquo…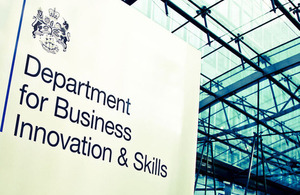 Universities and Science Minister David Willetts today signed a joint framework on closer education and skills cooperation with Indonesia's Minister for Education Mohammad Nuh. This will promote student mobility and the transfer of knowledge between the two countries.
The agreements include eight partnerships between UK and Indonesian institutions and a new UK-Indonesia Scholarship Programme supporting up to 150 PhD students to come to the UK each year.
Universities and Science Minister David Willetts said:
"This is a major step towards establishing the UK as Indonesia's partner of choice in education and research. The positive effect of these agreements will go further than simply providing scholarships; it will build and strengthen institutional links in teaching and research.
"We will also be looking for future opportunities for our countries to work together in vocational education and training and for partnerships between further education colleges"
Dr Joanna Newman, Director of the UK Higher Education International Unit, said:
"The UK Indonesia Scholarship Programme is a landmark commitment by the Indonesian government and UK universities in student mobility. Indonesia has 5.4 million students and has huge ambitions for the education of its population and the UK is extremely well placed to develop long-lasting partnerships in teaching and research."
The university agreements are:
The** University of Oxford** and the Indonesian Ministry of Education and Culture creating opportunities for more Indonesian students to study at Oxford. There will also be initiatives for the further development of research into Indonesia and Indonesian studies

Establishing the Newcastle University-Universitas Indonesia Doctoral Training Centre (NIDTC)

Cranfield University and Institut Teknologi Bandung creating a double-degree Masters programme in engineering and technology

Northumbria University and Universitas Bina Nusantara setting up four new undergraduate and postgraduate programmes in interior design, industrial design, interactive media design and multidisciplinary design innovation

The University of Nottingham and Universitas Muhammadiyah Surakarta establishing integrated Masters and PhD programmes in materials design studied at both sites

The University of Southampton and Institut Teknologi Sepuluh Nopember cooperating in teaching and research, and developing academic exchanges

The Open University and Universitas Terbuka collaborating in quality assurance, curriculum development and pedagogic research

The Nuffield Department of Medicine, University of Oxford and the Faculty of Medicine, Universitas Indonesia collaborating on infectious disease and public health research and establishing the FMUI-Oxford Clinical Research Centre.
The Prime Minister led a delegation to Indonesia in April this year, which included the UK Higher Education International Unit, Open University, University of Southampton and the University of Nottingham, who have all signed agreements today.
**Notes to editors:
**
---
This latest agreement was signed during the state visit by the Indonesia President Susilo Bambang Yudhoyono.

The deals are expected to be worth over £50 million to the UK higher education sector over 5 years.

Collaborations between the UK and Indonesia higher education institutions already exist. This includes a joint doctoral programme of biomedical sciences between Newcastle University and the University of Indonesia, collaboration on automotive engineering between Kingston University and the University of Muhammadiyah Surakarta and a joint MBA in Entrepreneurship between Goldsmiths and the Institute Technology Bandung.

These links were strengthened by high level academic visits in both directions organised by the British Council. A delegation of 15 Rectors, Vice Rectors and senior officials came to the UK in March 2012 to attend the international education conference 'Going Global'.

In April 2012, David Willetts signed a letter of intent between the Ministry of Education and Culture of the republic of Indonesia and the UK government to strengthen mutual cooperation in education. This was followed in May 2012 by a MoU and the establishment of UK-Indonesia Joint Working Group. This demonstrates a commitment for the UK and Indonesia to work closely together to expand existing interactions and explore new areas for collaboration. BIS will underpin this with dedicated funding (100k directly under this agreement and access to wider funding under UK/ASEAN Knowledge Partnerships agreement). It will facilitate greater student mobility and promote knowledge partnerships between universities and school-based programmes -including English Language training.

Indonesian student numbers in UK grew by 12 per cent to approximately 1,300 in 2010/11 - mainly at the post-graduate level and particularly for one-year taught masters degrees. 305 Indonesians studied for a UK qualification in Indonesia. This compares with 13,900 Malaysians coming to the UK to study and 58,000 studying for a UK qualification in Malaysia. Total UK education exports are worth around £14 billion, and could rise to around £20 billion in 2020, representing an annual growth rate of approximately five per cent.

The Government's economic policy objective is to achieve 'strong, sustainable and balanced growth that is more evenly shared across the country and between industries'. It set four ambitions in the 'Plan for Growth' (PDF 1.7MB), published at Budget 2011:
To create the most competitive tax system in the G20

To make the UK the best place in Europe to start, finance and grow a business

To encourage investment and exports as a route to a more balanced economy

To create a more educated workforce that is the most flexible in Europe.
Work is underway across Government to achieve these ambitions, including progress on more than 250 measures as part of the Growth Review. Developing an Industrial Strategy gives new impetus to this work by providing businesses, investors and the public with more clarity about the long-term direction in which the Government wants the economy to travel.
BIS's online newsroom contains the latest press notices and speeches, as well as video and images for download. It also features an up to date list of BIS press office contacts. See http://www.bis.gov.uk/newsroom for more information.
Notes to Editors
Contact Information
Name BIS Press Office Job Title
Division Department for Business, Innovation & Skills Phone
Fax
Mobile
Email bispress.releases@bis.gsi.gov.uk
Name Katie Kilgallen Job Title
Division Department for Business, Innovation & Skills Phone 020 7215 1861 Fax
Mobile
Published 1 November 2012