News story
UK and India invite bids on a new phase of the UK India Research and Education Initiative (UKIERI)
This marks the launch of Phase 2 of the UK India Research and Education Initiative (UKIERI). £5 million per year will be invested over the next…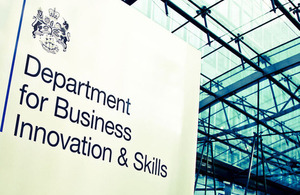 This marks the launch of Phase 2 of the UK India Research and Education Initiative (UKIERI). £5 million per year will be invested over the next five years by the British and Indian governments in a jointly-funded scheme.
Phase 2 of UKIERI consists of four strands:
---
**Leadership **- building leadership capacity in schools, colleges and universities.
Innovation Partnerships - enhancing the innovation capacity of further and higher education institutions.
Skills Development - enabling the UK skills sector to support India with its ambition to train 500 million people by 2022.
Enhancing mobility - through the mutual recognition of learning and achievements.
The UK and Indian governments are also anticipating that business will invest in UKIERI; Tata Consultancy Services have agreed to sponsor 30 'fellows', where UK students will have the opportunity to work at Tata in India this summer before coming back to share their experience in UK secondary schools.
Minister for Universities and Science David Willetts said:
"UKIERI is already a success. In its first five years, it created some 500 new partnerships between schools, colleges, universities and research institutions in our countries. This collaboration has allowed us to share understanding of each other's culture, and maximise the impact and success of research projects.
"This new phase is particularly exciting. As of this week we are inviting proposals for collaborations in the areas of building innovation partnerships, skills development and creating a new generation of education professionals.
"I was staggered when I first learned that India plans to create 40 million new university places, and train 500 million people in vocational skills over the next 12 years. The systemic changes that UKIERI will bring about can help to make that a reality."
The British Council will continue to manage the programme through the UKIERI Secretariat based in India.
Country Director for India at the British Council, Rob Lynes, said:
"This is such an important initiative and is unique around the world as it brings together so many different institutions in both countries to work together. It delivers benefits that will improve our education systems, will build lasting relationships and through those partnerships tackle global challenges. We are proud to be part of such a significant programme"
Notes to editors:
To find out more or apply for funding, go to [www.ukieri.org](http://www.ukieri.org) for details.

Plans for a new phase of this jointly funded £5m a year programme were announced by Prime Ministers David Cameron and Manmohan Singh in July 2010. Since then, the UK and Indian Governments and their respective education and skills sectors have been working closely together to develop the new Initiative. Its aim is to deliver a systemic change to UK and India's education and skills sectors.

Background Information on UKIERI Phase One:
The UK-India Education and Research Initiative (UKIERI) started with the aim of enhancing educational links between India and the UK. All projects under UKIERI involved teams in India and the UK to deliver joint projects with mutuality of benefit as the core principle. This unique multi-stakeholder partnership programme committed over £20 million through three main strands of Higher Education & Research, Schools & Professional and Technical Skills. The programme also offered an opportunity for policy dialogue between India and the UK on areas of mutual interest. The private sector has also been associated with UKIERI through "Corporate Champions" who have extended support to the programme since its inception.
Significant Achievements under UKIERI:
182 UK India partnerships across Higher Education & Research; Schools and Professional & Technical Skills, involving over 600 institutions
55 individual awards through PhD scholarships and fellowships
88 facilitation grants to travel between UK and India for developing partnerships
Opportunity to 393 British students to visit India under the Study India Programme
Facilitated work placements for 105 Indian graduates under the India Graduate Work Experience Programme and UKIERI-GSK work placement opportunity
40 events in policy dialogue and networking.
---
BIS's online newsroom contains the latest press notices, speeches, as well as video and images for download. It also features an up to date list of BIS press office contacts. See [http://www.bis.gov.uk/newsroom](http://www.bis.gov.uk/newsroom) for more information.
Notes to Editors
Contact Information
Name BIS Press Office Job Title
Division COI Phone
Fax
Mobile
Email NDS.BIS@coi.gsi.gov.uk
Name Lucy Bell Job Title
Division Department for Business, Innovation and Skills Phone 020 7215 5361 Fax
Mobile
Email Lucy.Bell@bis.gsi.gov.uk
Published 9 June 2011