World news story
UK and Delta Foundation urging to enhance the low carbon policy
This was published under the 2010 to 2015 Conservative and Liberal Democrat coalition government
UK and Delta Foundation urge to enhance low carbon policy in Taiwan in response to the recent IPCC report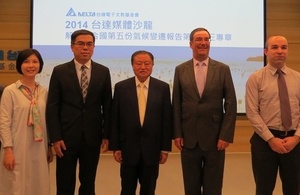 Mr Chris Wood, Director of the British Trade & Cultural Office (BTCO), was invited to a press conference organised by Delta Electronics Foundation on 14 April 2014, urging to enhance the low carbon policy in Taiwan in response to the recent published United NationsIntergovernmental Panel on Climate Change (IPCC) report.
The IPCC report indicated that economic and population growth continue to be the most important drivers of increases in CO2 emissions from fossil fuel combustion. Asian countries are the majority in emissions growth. The "Industry" and "buildings" altogether are the two sectors accounted for over 90% final energy use. It also mentioned that we need to utilise over 80% renewable energy if the temperatures rising have to be kept within 2 degrees Centigrade by 2050.
Mr Wood emphasised at the conference: "We believe that it is crucial to understand the IPCC report on climate change and to recognise its implications for the world. The UK takes climate change very seriously. We have committed to cut our own greenhouse emissions by 80% by 2050, in line with the UN's target to limit climate change to 2 degrees."
Sir David King, UK Foreign Secretary's Special Representative for Climate Change, also stated in the pre-recorded film for the conference: "In Taiwan, you're emitting around 11.3 tonnes of carbon dioxide per person per annum. I would want to see that Taiwan commits itself to reduce its emissions to 2 tonnes or less by 2050. That's the challenge – collective challenge – that all countries are faced with." Sir David also took UK as an example: around 93% of UK businesses has already benefited from the actions arising out from the climate change commitments. The total global economy, by 2016 not long in future, in the green economy and low carbon goods, is likely to be about 250 billion dollars.