World news story
UK and Chinese companies discover exciting collaboration opportunities at Guiyang Eco-Forum
This was published under the 2010 to 2015 Conservative and Liberal Democrat coalition government
British Consul-General in Chongqing Simon Lever led a trade delegation to Guiyang on 19th July, revealed exciting new avenues for UK/China co-operation.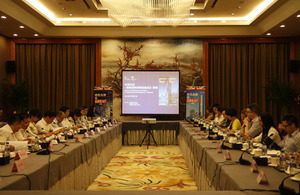 British companies shared their experience of eco living at the Eco Forum in Guiyang. The July trade mission, organised by the British Consulate-General in Chongqing to the Global Eco-Forum in Guiyang, revealed exciting new avenues for UK/China co-operation.
A delegation of eight leading UK companies attended the Forum, which is seen as an important national platform for the promotion of sustainable development. Each of the companies brought with them special expertise in architecture, urban planning, property-management, research and consultancy, or water management.
The delegation also had encouraging meetings with the government leaders of Guanshanhu district, China's youngest district, and met representatives of Guizhou's key businesses in the construction, environmental protection and water sectors, such as Zhongtian Urban Construction and Investment Group - one of the province's most prominent developers, who hosted a visit to 'Future Ark', one of Guizhou's and Zhongtian 's most exciting new projects.
It is hoped the visit will pave the way for new UK/China co-operation in Guizhou, for example, BRE Group, a UK education and research charity which provides consultancy services on what makes successful buildings and communities, began new discussions about a Research and Innovation Centre in Guiyang aimed at bring the UK's advanced knowledge and experience together with local companies' and researchers' understanding of the local environment.
The mission also highlighted the potential for extending UK/China co-operation with companies already active in the province; companies such as, Shanghai Yaohua Pillkington Glass, listed three times amongst the Top Ten Joint Ventures in China, which supplied its advanced, energy-saving glass for the construction of the Renaissance Hotel in Guiyang's Guanshanhu District; and Savills, a leading company in the premium real estate market, which has already established co-operation with Guizhou's Zhongtian Urban Construction and Investment Group.
Benedict Mann, acting British Consul-General in Chongqing said:
The outcome of mission is encouraging. Guizhou's 12th Five Year Plan aims for increased urbanisation and the doubling of the province's GDP by 2015. So the province is seeing growing demand for the kind of environmentally-friendly methods of design and construction in which UK companies excel.