World news story
UK and central bank co-operate to disseminate new Law on anti-money laundering
British Embassy and Bank of the Lao PDR host seminar on new Law on anti-money laundering and combating the financing of terrorism.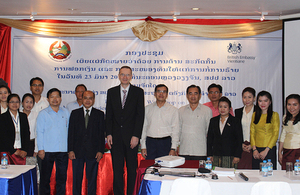 On Monday 23 March, Ambassador Philip Malone and Director General of the Bank of the Lao PDR (BoL) Laos Anti-Money Laundering Investigation Unit, Mr. Phanthaboun Sayaphet co-chaired a one-day seminar to disseminate the new law on Money Laundering and Combating the Financing of Terrorism at the Mercure Hotel in Vientiane.
This, the first law in Laos on Money Laundering and Combating the Financing of Terrorism, was approved by the National Assembly in July 2014 and later officially promulgated by the Lao government. The new law strengthens the legal framework in Laos to more effectively deal with anti-money laundering and the financing of terrorism and forms part of a series of measures needed to bring the Lao PDR in line with international standards in this area. This is particularly important as the Lao economy opens up and develops, including joining the ASEAN Economic Community in 2015.
During the event, Ambassador Philip Malone said:
We have been very keen at the British Embassy to develop our co-operation with agencies of the government of the Lao PDR in the area of anti-money laundering and counter-terrorist financing.

Our interest in this is because we believe strongly that having a well-regulated, transparent and well-policed financial sector is vitally important to a successful and well-run economy. Investors want to have security and certainty when they consider investment decisions.
Attended by officials from across government, the seminar will help concerned sectors understand the new regulations and contribute to better compliance with the new Anti-Money Laundering and Combating the Financing of Terrorism legislation.
The seminar forms part of a package of support the UK government is providing to assist the Lao government's anti-money laundering efforts.
It also forms part of the British government's wider aims to work with relevant partners to promote an improved business environment in Laos and a rules-based international economic system.
Published 23 March 2015