World news story
UK and Burma: working together to tackle infectious diseases
Experts for leading UK and Burmese institutions recently gathered to discuss the implications for Burma of infectious diseases.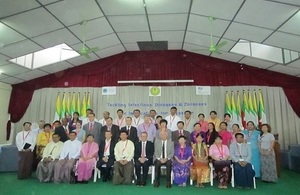 The event, which took place on 20-22 November at the University of Public Health, explored the scientific and policy dimensions of Infectious Diseases and Zoonoses in Burma.
Through presentations and panel discussions, workshop participants reviewed the influence of infectious diseases on human and animal health, development, and economic productivity. Participants also discussed prospects for disease prevention, control and mitigation, and consider opportunities for public health capacity development through institutional collaborations between the UK and Burma.
Speaking at the opening of the symposium Matthew Hedges, Deputy Head of Mission at the British Embassy said:
The Asia Pacific Region has, unfortunately, been at the epicentre of many epidemics. Over 30 new infectious agents have been detected in the last three decades, 75% of which have originated in animals. I hope that sharing our knowledge and expertise takes us several steps forward in the move to a secure economy, at the same time deepening the scientific relationship between the UK and Burma.
Further information
The symposium 'Tackling Infectious Diseases and Zoonoses: The Implications for Burma' was held from 20-22 November 2013. It was jointly organised by The Yangon University of Public Health, the British High Commission in Singapore's Science & Innovation Team and the Singapore Infectious Diseases Initiative, with support from the British Embassy's Prosperity Team.
The British Embassy would like to thank Professor Nay of the University of Public Health for his efforts in making the symposium possible.
Through the Department for International Development the UK is contributing around £50 million to the 3MDG Fund Three Millennium Development Goal. This will help to increase access to and availability of essential maternal and child health services for the poorest and most vulnerable in 42 Townships in Burma and HIV, TB, and malaria interventions for populations and areas not readily covered by the Global Fund. The UK is also providing over £10 million to help tackle drug-resistant malaria by improving access to high quality treatment here.
In addition, the UK Government is providing over £10 million in emergency humanitarian response for conflict affected people in Kachin State and over £10 million in emergency humanitarian response for conflict affected people in Rakhine State.
You can read more about the UK's overall development assistance to Burma here
A full transcript of speech can be found below:
Published 21 November 2013