UK and Bulgaria discuss the benefits of a reformed EU
British Ambassador Jonathan Allen, the Head of Europe Directorate Internal at FCO Tim Hemmings and Bulgarian DPM Miglena Kuneva make the case for a reformed EU.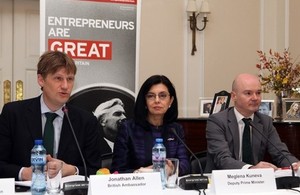 On 27 November, British Embassy Sofia organised a roundtable discussion entitled: "The Future of Europe: UK and Bulgarian views in the context of the UK-Estonia-Bulgaria Trio Presidency of the EU in 2017-2018."
The discussion was part of the official visit to Sofia by Tim Hemmings, Head of Europe Directorate Internal in the Foreign and Commonwealth Office. Mr Hemmings joined a panel which also included Bulgarian Deputy Prime Minister for European Policy Coordination, Mrs Meglena Kuneva, Mrs Vessela Tcherneva, Senior Policy Fellow at the European Council on Foreign Relations, and Mrs Radka Balabanova, Europe Director at the Bulgarian Ministry of Foreign Affairs.
British Ambassador to Bulgaria Jonathan Allen moderated the panels and made the case for a more competitive, flexible and democratically accountable EU. Ambassador Allen said:
We need an EU that is dynamic, creates jobs and growth and is genuinely accountable to the people.
Tim Hemmings emphasised that Bulgaria and the UK are already working closely on improving the quality of regulation through the introduction of Impact Assessments. Tim Hemmings said:
They can improve Bulgaria's reputation as a destination for foreign investment by helping to create a more stable business climate.
Tim Hemmings also set out the recommendations on cutting EU red tape in the recent report from Prime Minister David Cameron's Business Taskforce.
Bulgarian Deputy Prime Minister Meglena Kuneva said:
Bulgaria and the UK could achieve a lot together on the digital agenda during the UK-Estonia-Bulgaria trio presidency of the EU 2017-2018. The Digital economy is an underexplored opportunity for the EU to boost its economy in old and new member states alike.
The roundtable participants discussed the EU reform agenda in terms of how a reformed EU could deliver jobs and prosperity, provide major opportunities for improvement through better regulation, increase competitiveness and increase free trade, and deepen the market in goods and services purchased online. They agreed that the UK and Bulgaria already had many shared positions and priorities on this agenda, and that there was significant potential for further collaboration.
In a lively debate with the audience – which included state officials, think tank representatives, academia and media – the issue of the democratic accountability of the EU was also discussed. The Ambassador highlighted the UK's recommendation for a stronger role for national parliaments.
During his official visit to Bulgaria, Mr Hemmings also met Deputy Foreign Minister Rumen Alexandrov, with whom he looked ahead to the forthcoming Trio Presidency of the EU in 2018.
Published 27 November 2014