News story
UK and Brazil strengthen ties in science, research and education
The visit included a meeting with Aloizio Mercandante, the Brazilian Minister for Education, and Marco Antonio Raupp, the Brazilian Minister…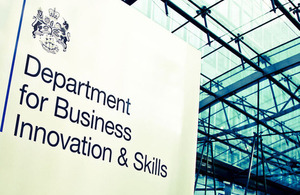 The visit included a meeting with Aloizio Mercandante, the Brazilian Minister for Education, and Marco Antonio Raupp, the Brazilian Minister for Science, Technology and Innovation, to discuss the bilateral relationship on science and education. The Ministers welcomed agreements to improve the English language skills for Science without Borders students and for Brazilian English language teachers.
Minister for Universities and Science David Willetts said:
"Brazil and the UK are committed to building on our already excellent relationship in science, research and higher education. These new agreements will further strengthen our ties, in particular the joint statement I signed with Minister Mercadante last year and our commitment to welcoming the Science without Borders students.
"They will bring more opportunities for our leading scientists, universities and businesses to collaborate and learn from one another, driving up knowledge and skills in both our countries."
Science and education announcements made during the trip included:
An agreement was signed to improve the Science without Borders programme by offering optional three or six month English language courses at participating UK universities. The improved agreement also included an additional allowance of £5,000 per annum for science, technology, engineering and maths (STEM) PhDs. This has increased the value of the programme to the UK higher education sector to over £200 million.

The British Council is working towards an agreement to support 10 Brazilian universities' English language training. Secondly they announced that they are working with the Brazilian Ministry of Education to send up to 500 Brazilian teachers twice a year to the UK to learn best practice in teaching English language programmes.

A £4.5 million research partnership agreement was signed between BG Group, Aberdeen University and University of Rio Grande de Sul. This will involve 25 PhD students from UK and Brazil spending time in each other's countries on joint projects.

BP announced a $10 million research collaboration project involving eight British and Brazilian universities. This involves the Universities of Aberdeen, Cambridge and Oxford in the UK and the Federal Universities of Rio Grande do Norte, Pernambuco and Bahia, University of Brasilia, and the Brazilian National Observatory, and aims to improve the understanding of the geological evolution and resource potential of the onshore Parnaiba Basin in Northeast Brazil. It will utilise the significant expertise UK universities have in this area, allowing them to grow their brand as global leaders.

BP also signed a research agreement worth $1 million with Brazil's National Laboratory of Bioethanol Science and Technology aimed at creating a new process for ethanol production from sugar cane.
The UK is aiming to double exports to Brazil to £4 billion annually by 2015. The education and science relationship between the UK and Brazil is a key element of this. Last year UK exports to Brazil rose by nine per cent.
**Notes to editors
**1. Brazil fact file - science and education
Brazil is the sixth largest economy in the world, ahead of India and Russia and largest in South America. Goldman Sachs predicts that by 2050 Brazil will have the 5th largest economy.

The Brazilian economy has developed rapidly over the past 15 years.

Bilateral trade in goods between the UK and Brazil was £6.8 billion in 2011.

UK exports of goods to Brazil in 2011 were valued at £2.3 billion - an increase of 9 per cent on the previous year.

Education is a major priority for President Dilma. Brazil's education system is below international standards and is a bottle-neck for growth. The system is complex, with Federal, State and Municipal levels of bureaucracy inter-linked and not always well coordinated.

Brazil and the UK have a well-developed partnership in science. Both countries have world-class science bases - Brazil has particular expertise in the energy, medical, life sciences and agricultural sectors. Brazilian and UK institutions collaborate closely and quantitative research has shown that when Brazilian scientists collaborate with their British counterparts, the impact is greater than with any other country.

Brazil accounts for 2 per cent of global production of scientific research making it 13th in the world rankings, and the most important producer of scientific research outside the G8.

The UK ranks as Brazil's 2nd partner of choice in science and innovation (after the US), based on the number of joint papers published. Engagement between UK and Brazilian universities is already well established and growing.
The Brazilian Science without Borders programme plans to fund and send up to 100,000 students overseas to study science and engineering related subjects. The UK has been allocated 10,000 places over the next three years. The first 529 Brazilian graduate students arrive in the UK this Autumn. A further 1,384 have applied to come to the UK in January. This has made the UK the 2nd most popular choice to study for Brazilian students this January under the scheme.

The Government's economic policy objective is to achieve 'strong, sustainable and balanced growth that is more evenly shared across the country and between industries.' It set four ambitions in the 'Plan for Growth' (PDF 1.7MB), published at Budget 2011:
To create the most competitive tax system in the G20

To make the UK the best place in Europe to start, finance and grow a business

To encourage investment and exports as a route to a more balanced economy

To create a more educated workforce that is the most flexible in Europe.
Work is underway across Government to achieve these ambitions, including progress on more than 250 measures as part of the Growth Review. Developing an Industrial Strategy gives new impetus to this work by providing businesses, investors and the public with more clarity about the long-term direction in which the Government wants the economy to travel.
BIS's online newsroom contains the latest press notices and speeches, as well as video and images for download. It also features an up to date list of BIS press office contacts. See http://www.bis.gov.uk/newsroom for more information.
Notes to Editors
Contact Information
Name BIS Press Office Job Title
Division Department for Business, Innovation & Skills Phone
Fax
Mobile
Email bispress.releases@bis.gsi.gov.uk
Name Sally Catmull Job Title
Division Department for Business, Innovation and Skills Phone 020 7215 6577 Fax
Mobile
Published 28 September 2012