World news story
UK and Australia increase business ties at AusBiotech
Trade and investment between Australia and the UK received a boost last week from the AusBiotech conference and exhibition.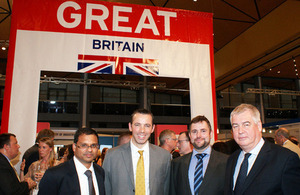 Britain brought the largest foreign delegation, 11 companies, to AusBiotech last week – Australia's premiere biotechnology conference – aiming to continue to grow business ties between the two countries in the life sciences sector.
Business between the UK and Australia is booming, UK exports to Australia were nearly £11 billion last year and have grown 79% since 2007. Of this, medicine and pharmaceuticals was the 2nd largest export rising 7% last year to £521 million.
One British company making the most of the good trading conditions is Aesica Formulation Development. Aesica signed an agreement with Australian company QrX Pharma in July this year to promote QrX's stealth beadlet technology globally as well as use it for developing abuse-resistant drugs. Another British company Domainex, is working on drug discovery research projects with Australian entities with the aim of codeveloping products all the way through to production.
Joe Dodd, Snr Trade Manager for UK Trade & Investment (UKTI) said that UK and Australia collaborations are quite common and have many benefits:
As the UK is Europe's leading biotechnology location and Australia is the Asia-Pacific's leading biotech country there are often mutual benefits to forming partnerships. The two countries have similarities in world-leading innovation and skills, clinical trial excellence and translational research and the UK-based companies often have skills and technical expertise in bringing products through to market which are useful to Australian companies. The Australian biotech sector hasn't developed the same depth and experience in this area yet.
Australian companies are also finding success in the UK in increasing numbers. Last year more than 60 Australian companies expanded their presence in the UK, 20% up on the year before. Australian companies often use the UK as their European HQ, taking advantage of the international connections, strong pro-business environment and large talent base. For biotechnology companies another incentive is the patent box which provides a 10% tax rate on qualifying revenues from patents, as well as further R&D tax concessions, this on top of the already low British corporate tax rate (dropping to 20% next year).
Five Australasian biotech companies have recently set up in the UK. Brisbane-based contract research organisation Clinical Network Services, Sydney company Biosceptre, Izon Science, from the University of Otago in New Zealand, and Synthesis MedChem and Mycrolab from Melbourne.
The full list of British companies that attended AusBiotech 2013 is:
Find out more about UK Trade & Investment's work in Australia
Published 8 November 2013