World news story
UK and Australia aid chiefs welcome reform
Heads of Department for International Development (DFID) and Australian Agency for International Development (AusAID) have launched a new education program during a joint visit from 29 to 31 January.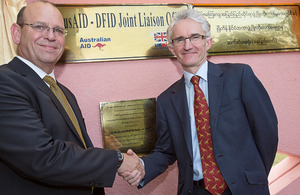 Visiting the country for the first time, Mark Lowcock (Permanent Secretary for DFID) and Peter Baxter (Director General of AusAID) launched the $22 million Myanmar Education Consortium to provide basic education for more than 200,000 of the poorest children.
The Myanmar Education Consortium will support the non-government education sector—in particular in monastic and community schools—in some of the poorest and most remote areas of Myanmar. The focus is the Millennium Development Goal for education — ensuring all children will be able to complete a full course of primary schooling.
Australia and the UK will provide up to $500 million in development assistance to Myanmar from 2011 to 2015. This will deliver better quality education for more than two million children, increased incomes for farmers, improved health particularly for women and girls, wider support for peace and development in ethnic areas, and practical support for a better-managed economy, responsible investment, Parliament and the rule of law.
Mr Lowcock and Mr Baxter visited two townships in the Irrawaddy Delta region yesterday to see firsthand how increased aid from the UK and Australia was combining to reach the poorest and to support the country's reforms.
Meeting communities that had been devastated by Cyclone Nargis in 2008, Mr Lowcock and Mr Baxter spoke with parents, teachers and children at a school, and mothers, children and midwives at a hospital that had been rebuilt and strengthened with British and Australian support.
Mr Lowcock said:
The people we met in the Delta are an inspiration to us and the rest of this country. They have shown what communities can achieve when they work together, are supported by responsive local governments and well-targeted international assistance.
Your government has embarked on an ambitious programme of reform. The challenge will be to ensure that communities such as the ones we visited benefit from the reforms.
Mr Baxter said:
By visiting Myanmar together, Australia and the UK show a joint commitment to working together—and with other donors—to support the remarkable reforms that have started here in Myanmar.
We have assured the government that our expanding aid programs will be delivered in line with the principles of the Nay Pyi Taw Accord on Effective Development Cooperation, and will be effective in helping Myanmar people overcome poverty.
As well as visiting projects in the field, Mr Baxter and Mr Lowcock met Ministers Aung Min and the Speaker of the Lower House Shwe Mann and figures from the Opposition, including representatives from ethnic nationality parties. They also met representatives from business and civil society.
During their visit, Mr Baxter and Mr Lowcock formally opened a joint liaison office in Nay Pyi Taw, which will improve cooperation with the Government, Parliament and other stakeholders.
Further Information
Peter Baxter is the Director-General of the Australian Agency for International Development. Mark Lowcock is the Permanent Secretary of the UK Department for International Development.
UK aid to Myanmar will be £187 million ($300 million) over four years from 2011/12 – 2014/15.
Australian aid to Myanmar will reach AU $100 million per year by 2015-16.
AusAID Director General Peter Baxter signed the Memorandum of Understanding (MoU) during the joint visit. The MoU is the first between Australia and Myanmar and has been made possible by the historic changes that are occurring in Myanmar. The MoU enables Australia to deliver aid through a direct relationship, just as it does with other countries in Asia. It will provide a framework for greater cooperation in critical sectors such as education and health. It also allows Australia to increase its support for economic and political reform.
AusAID Director General Peter Baxter and DFID Permanent Secretary Mark Lowcock opened the joint aid liaison office in Nay Pyi Taw on Tuesday 29th January with Deputy Minister of Planning Dr Khin San Yee and Parliamentarians. The office is an example of donor coordination in action, helping Australia and the UK to work more closely on policy with the government, Parliament and other national stakeholders.
The Myanmar Education Consortium (MEC) will be housed by Save the Children International in Yangon. The MEC will provide grants to local and international non-governmental organisations.
Published 1 February 2013