World news story
UK Ambassador to the UAE speaks about UK/GCC ties
The importance of relations with our long-standing friends in the Gulf will only grow.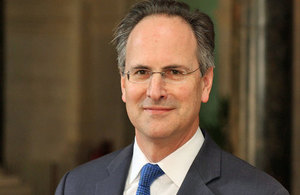 Delivering a keynote speech at the Family Office Forum organised in Dubai by Prestel & Partners for leading business families, the British Ambassador to the UAE, Philip Parham, spoke about the strength of the UK/GCC partnership, their shared interests and the implication of Brexit.
Ambassador Parham's speech follows Prime Minister Theresa May's address to GCC leaders in Manama at the end of last year, and he recalled her message on the partnership's importance for mutual security and prosperity.
The trade figures speak for themselves. "Annual bilateral trade between the UK and the Gulf is currently worth more than 135 billion AED; more UK exports go to the GCC than to China and more than twice as much as to India", said the Ambassador.
Touching on the UK's security cooperation with the GCC, Ambassador Parham spoke of the considerable assets that the UK has deployed to the region. One example is the current command of the US Task Force for the Gulf by the Royal Navy's fleet flagship, HMS OCEAN. Another is the 1,100+ strikes by the UK's Royal Air Force against Daesh and their provision of highly advanced intelligence, surveillance and reconnaissance assistance in support of the Coalition effort.
Ambassador Parham provided plenty of evidence to counter the argument that Britain is in retreat. For example: its permanent membership of the UN Security Council; its vital role in NATO; its leading role at the heart of the Commonwealth, a voluntary association of 2.2 billion people; its outstanding education system with 4 of the top 10 and 18 of the top 100 universities in the world; the fact that one in every seven head of state and government was educated in Britain; and, that Cambridge University on its own has been awarded more than double the number of Nobel Prizes from Russian and Chinese universities combined.
In sticking up for a liberal international order - for the rules-based interaction of sovereign nation states - the United Kingdom is overwhelmingly a force for the good in the confusion and discord of the early 21st century.
On Brexit Ambassador Parham recognised that uncertainty existed following the vote on 23 June, but he underlined that the UK starts on this new phase of history from a position of strength:
We are the fifth largest economy in the world; the fastest growing major economy over the last three or four years. Employment in the UK is at its highest ever. Unemployment is at its lowest for 12 years and less than half the Eurozone average.
The Ambassador was optimistic that Brexit would stimulate trade between the UK and GCC following the decision by the UK Prime Minister and the leaders of the GCC to establish a Joint Working Group to examine how to unblock remaining barriers to trade and take steps further to liberalise their economies. He concluded by calling for confidence in a post-Brexit UK which will be "a reliable ally, a trusted partner, and a creative global leader for the common good."
Published 9 February 2017