World news story
UK Ambassador makes his pitch to budding Lebanese entrepreneurs
SoUK.LB - Social Enterprise Hub is an initiative of the British Embassy in Beirut that aspires to strengthen and promote social enterprise sector in Lebanon.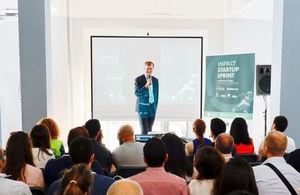 British Ambassador to Lebanon Hugo Shorter surprised the finalists of SoUK.LB - Social Enterprise Hub at the Digital Beirut District by pitching his own ideas for the British Embassy in Lebanon, as if a candidate seeking investment.
Over the next three days, the best of the 180 applicants to the SPRINT and Growth workshops will be trained and challenged about their ideas, their marketing, and their pitch. On the last day, a panel of judges from the chamber of commerce, the media, the business sector, and government will select the social enterprises finalists and will support with $15,000 to $40,000 grant per finalist along with training and mentorship.
Ambassador Shorter said:
Good morning everyone. I'm going to pitch to you today my company called "UK in Lebanon." My company has many bosses, many of them women, one of whom wears a crown, but I am responsible for the office in Lebanon. My company wants to succeed, and also wants to see social change in support of a secure, stable, and prosperous Lebanon where the borders are secure, every child thrives, and every voice co-exists with every other.

I admit we are not a start-up, we are more of a growth stage company. So far we have invested £60m to build over 70 military watchtowers, provide over 300 Landrovers and help equip the LAF secure Lebanon's border from the Mediterranean to Mount Hermon. My company has trained over 8,000 soldiers and sent 150 LAF officers to the UK's finest military academies.

We have invested over £13m in improving the police across Lebanon and especially here in Beirut, in support of the ISF's own vision for reform by 2022. We have provided over £436m in assistance to the poorest in Lebanon for clean water, medical consultations, and cash transfers. We have built solar panels, water tanks, waste and water systems, and children's play areas across over 185 of Lebanon's most vulnerable municipalities.

We have provided over £160m for education, including for 550,000 vulnerable Lebanese and refugee children, and provided every textbook for every 6-15 year old in public schools. We have trained over 1,200 teachers, and improved English-speaking skills for 150,000 students.

Through our Chevening scholarships, we have sent over 100 of Lebanon's finest students to do Masters courses in the UK for free at some of the world's finest universities. We increased our exports to £360m last year and have already seen a 20% increase this year. And we have helped create over hundreds jobs.

We are not alone in this business. Some other companies have similar visions, spending, and achievements, and we are working together to make the whole market place better. But we have other competitors too, who are selling a different, inward looking vision.

I am handing out some promotional material now [the booklets] which will hopefully persuade you we are worth partnering with, and worth trusting. But because we are not finished, and because we have competitors, I am here today to ask for your investment in our company.

I need you in order to achieve my vision for UK in Lebanon. I need your time. I need your dreams. I need your energy, and your passions, and your determination to make Lebanon a better place. A place where tolerance and democracy thrive, and vision and drive deliver the finest companies in the world who are committed to their communities and their society. I am here today to ask you to commit everything you've got to your company in order to help my company success. And if you do, I will offer you the reward of support, of challenge, of growth, and of achievement.

Thank you for listening to my pitch. I hope you will accept my bid for your investment today.
Published 13 October 2017