UK aid watchdog publishes first reports
The newly-established Independent Commission for Aid Impact – known as ICAI – has today published its first four reports on the impact of British aid.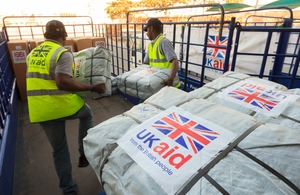 The watchdog was set up in May this year to independently review the effectiveness and value for money of UK aid. It will help British taxpayers to see exactly how and where overseas aid money is being spent.
ICAI has a remit to scrutinise UK Official Development Assistance (ODA) across all government departments, as well as DFID's own spending.
The four new reports look at:
The watchdog's own approach to value for money and the impact of aid
DFID's approach to anti-corruption
Britain's climate change programme in Bangladesh
The UK's support to the health sector in Zimbabwe
The full findings of the reports can be read at:
http://icai.independent.gov.uk/publications/
Secretary of State Andrew Mitchell welcomed the publications, saying:
"One of the first things we did after the election was to set up this aid watchdog to scrutinise what we do and how we spend British aid money.
"These reports show that much of our work is effective and provides value for money but there are some areas where we must do better. The reports found no evidence of corruption in our existing programmes.
"I have already changed how the UK delivers aid to ensure it is focussed on tangible results on the ground but we will use these reports to identify further reforms. We will implement in full their advice and recommendations, to complement the priorities the coalition government is pursuing."
Published 22 November 2011