A comprehensive 'malaria business plan' will set out how the UK will support the drastic reduction in the number of people who die from Malaria each year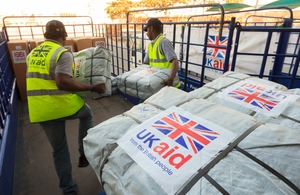 The Government is set to put the fight against malaria at the forefront of aid efforts in Africa, International Development Secretary Andrew Mitchell announced today.
A comprehensive 'malaria business plan' will set out how the UK will support the drastic reduction in the number of people who die from the killer disease each year and outline action to sustain those gains, now and in the future.
The plan will include a specific focus on some of the world's worst malaria hot-spots - high burden countries which account for 98% of all malarial deaths.
Evidence from across Africa also shows that whilst many of those with malaria do not get effective drugs, a large proportion of anti-malarial treatments are given to people who do not actually have malaria.
In addition to increasing the availability and use of bed-nets and effective antimalarial drugs, the Government will help improve the diagnosis of malaria and ensure that the most effective interventions reach the most vulnerable people. 
The UK will also support measures to reduce the spread of resistance to drugs and to the insecticides used to make bed-nets effective.
Launching a public consultation that will gather evidence from UK and international experts for the malaria business plan, Chancellor, George Osborne MP said:
"With over 2,000 preventable deaths a day from malaria, most of them children, I am determined that the fight against malaria is at the forefront of the Government's development agenda.
"I have taken a personal interest in the fight against malaria for many years and I'm delighted that the promise I made in Uganda in 2007, that we would step up the battle against this terrible disease is now being realised."
An estimated 240 million annual cases of malaria lead to 2300 preventable deaths every day - nearly 90% of them occur in Africa and most of them are children. 
Malaria accounts for 40% of all heath care costs in many African countries, placing huge burdens on households and already struggling health facilities. It is also shown to have a detrimental effect on the economy, reducing a high burden country's GDP by as much as 1.3%.
International Development Secretary, Andrew Mitchell announced that Britain would support the landmark completion of universal coverage of anti-malaria bednets in Sierra Leone.
Sierra Leone is one of 35 developing countries which account for 98% of all malaria deaths. The British support will buy one million bednets and support a campaign to make sure families understand the importance of sleeping under their bednet.
Andrew Mitchell said:
"Malaria is a preventable disease - yet it kills over 800,000 people every year and a child in Africa dies from malaria every 45 seconds. This is an appalling death toll that we cannot ignore.
"Tackling this disease will be one of my key priorities. We will support malaria interventions that are working and be unremitting in our focus to reduce malaria deaths.
"British aid for malaria in Sierra Leone will help prevent 4,400 children's deaths every year. This is what British aid is about - saving lives and delivering results."
Published 2 August 2010