UK aid: Review of Independent Commission for Aid Impact
Secretary of State for International Development Justine Greening announces review of the Independent Commission for Aid Impact (ICAI).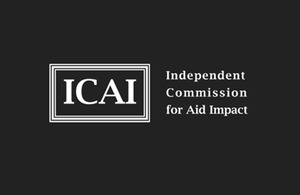 Justine Greening today announced the triennial review of the oversight arrangements for the Independent Commission for Aid Impact (ICAI) in a written ministerial statement to parliament.
Triennial Reviews of Non-Departmental Public Bodies (NDPBs) are part of the Government's commitment to review all NDPBs, with the aim of increasing accountability for actions carried out on behalf of the State.
The ICAI's strategic aim is to provide independent scrutiny of UK aid spending, to promote the delivery of value for money for British taxpayers and to maximise the impact of aid. In accordance with the DFID-ICAI Memorandum of Understanding, a robust and rigorous review of ICAI must take place by the end of 2013 to assess the continuing need for an independent scrutiny function and the associated governance arrangements.
The Review will be conducted in line with Cabinet Office principles and guidance, in two stages. The first stage will:
Identify and examine the key functions of the ICAI and assess how these functions contribute to the core business of DFID;

Assess the requirement for these functions to continue given other scrutiny processes;

If continuing, assess how the key functions might best be delivered; if one of these options is continuing delivery through the ICAI, then make an assessment against the Government's "three tests": technical function; political impartiality; and the need for independence from Ministers.
If the outcome of stage one is that delivery should continue through the ICAI, the second stage of the review will:
Review whether ICAI is operating in line with the recognised principles of good corporate governance, using the Cabinet Office "comply or explain" standard approach.
The full Terms of Reference will be available in the libraries of both the House of Lords and the House of Commons and online.
As part of the Review a public consultation will be open from Wednesday 27 March in the Consultations section of the website. The outcome of the Review will be announced in Parliament by the end of December.
Published 21 March 2013